Constantine, Bad Judge And Other NBC Series Fall Premiere Dates Set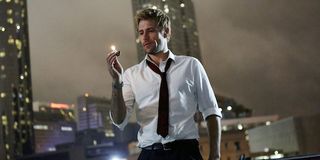 Set your DVRs! NBC has announced its Fall 2014 TV premiere dates. And if you have a DVR that allows you to schedule things months in advance, I'm impressed. Sure, Fall's a bit ahead of schedule right now, but for those who do want to have an idea of when NBC will be premiering their new and returning series this fall, the network has laid out the schedule, which includes the anticipated arrivals of new hour-long dramas Constantine, Bad Judge and State of Affairs.
Looking beyond the scheduled football, it looks like NBC will start things off with The Biggest Loser in early September, but their primetime lineup won't really get going until Monday, September 22 when The Voice premieres. That's also the week of The Blacklist, Parenthood, Chicago Fire and new drama The Mysteries of Laura...
New comedies Bad Judge (starring Kate Walsh) and A to Z (starring Cristin Milioti) won't premiere until October, airing after The Biggest Loser when it settles into its regular hour-long timeslot on Thursday night. The move to Thursday is a serious indication that NBC is looking to veer away from their once-popular comedy block on Thursday. With the weight-loss series at 8 p.m. and Parenthood at 10 p.m., that just leaves one hour for comedy.Hopefully A to Z and Bad Judge do the trick.
As for Friday, Grimm is set to come back later in October, premiering alongside the debut of DC comic adaptation Constantine. Finally, Katherine Heigl's new drama State of Affairs will make its grand debut in mid-November, taking over The Blacklist's spot on Monday night after The Voice. The Blacklist will be on hiatus by that point and NBC has it set up to air on Thursday nights when it comes back during Midseason.
Of course, it's only June right now, and there's a chance NBC could change any, most or all of these dates between now and September. But in the meantime, this gives us a look at their game plan for the start of the 2014-2015 season.
For more information about the 2014-2015 season at NBC, including which shows will be on the schedule in Midseason 2015 (Parks and Recreation, Hannibal, etc.) and links to the trailers for new series, click here.
Your Daily Blend of Entertainment News
Thank you for signing up to CinemaBlend. You will receive a verification email shortly.
There was a problem. Please refresh the page and try again.