The Criminal Minds Spinoff Is Headed To Series At CBS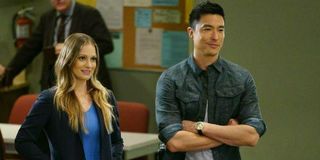 CBS is looking to mix things up a bit for the next season. The network recently announced orders for six new shows, among which including the Criminal Minds spinoff, Criminal Minds: Beyond Borders.
CBS recently ordered six new shows, several dramas and a couple comedies, for the upcoming 2015-2016 season. The roster, which features a midweek pickup for the live-action Supergirl series, also features the Criminal Minds spinoff, Criminal Minds: Beyond Borders. This will be the second spinoff for the police procedural drama on CBS. Criminal Minds: Suspect Behavior was the first spinoff of the hit CBS show, but was cancelled after 13 episodes. Perhaps, the second attempt will be the charm.
According to THR, Criminal Minds: Beyond Borders will center on a division of the FBI that helps American citizens who are in trouble abroad. Fans of Criminal Minds may recall seeing the planted spinoff/backdoor pilot back on April 8, as an episode of the flagship show titled "Beyond Borders." Criminal Minds showrunner Erica Messer will once again take the wheel, as will executive producers Mark Gordon and Nick Pepper. The cast includes actors Daniel Henney, Tyler James Williams and Gary Sinise, of recent CSI-NY fame. This joint venture between ABC Studios and CBS Television Studios will join such shows as CSI and NCIS, whom both have multiple shows concurrently running on CBS. Name recognition could give the spinoff an advantage over the competition in the same time slot.
Alongside the order for Criminal Minds: Beyond Borders, CBS has also greenlit four additional shows. Leading the bunch is the medical drama, Code Black, which centers on the busiest and most notorious ER in the nation. Staff members are forced to face the broken system that conflicts with their ideals and patient care. Limitless, based on the feature 2011 feature film, will center on the Brian Sinclair and his journey to discovering the powerful effects of the drug NZT while using his newfound abilities to aid the FBI in solving cases. The last drama, Rush Hour, based on the movie franchise, centers on a by-the-book Hong Kong police officer who is assigned to work a case in Los Angeles where he paired off with a cocky African American LAPD officer who is disinterested in working with him.
CBS also ordered some unique comedies for the 2015-2015 season. First, Angel From Hell, which revolves around Allison and her unlikely friendship with a Amy, whom she believes to be her guardian angel. Either that or she's just nuts. The last of the orders includes Life in Pieces, centers on a family whose individual members each tell stories of each family member. Thanks to unique combination of dramas and comedies, CBS is likely to continue its reign as the "most watched network" for yet another season.
Your Daily Blend of Entertainment News