Crossing Lines, Jane Lynch And Nick Lachey NBC Game Shows Get Summer Premiere Dates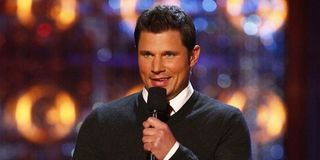 NBC is filling out the summer calendar, with three more shows getting premiere dates. Two are new game shows, The Winner Is… and Hollywood Game Night, and the third is the drama Crossing Lines. They join returning shows like America's Got Talent along with a few new shows including Bear Grylls new competiton series, Get Out Alive.
Deadline says the peacock network will premiere the Nick Lachey-hosted The Winner Is… on July 11th at 9 p.m. The show will pit six musical acts against each other in each episode to move forward for a chance at the grand prize of $1 million dollars.
Right after the singing competition at 10 p.m., Hollywood Game Night will have its premiere. Hosted by Jane Lynch, this series is the brainchild of Will and Grace's Sean Hayes and is based on the game nights he hosts in his own home. Celebrities will mingle with average, everyday people in a cocktail party atmosphere, where they'll sit down and play popular games.
The other addition to the summer lineup is Crossing Lines, a European crime drama surrounding a team of investigators tracking down criminals across international borders. This one has been set for a June 23rd premiere at 9 p.m.; the first installment will be a 2-hour premiere, but starting June 30th the series will air one-hour episodes in the 10 p.m. timeslot.
Also previously scheduled for summer premieres are the Anne Heche series Save Me, the new Australian drama Camp, and the return of American Ninja Warrior.
Your Daily Blend of Entertainment News
Thank you for signing up to CinemaBlend. You will receive a verification email shortly.
There was a problem. Please refresh the page and try again.