Da Vinci's Demons Renewed For Season 2 On Starz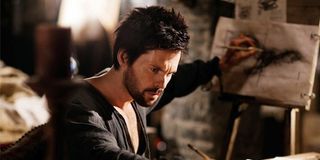 Da Vinci's Demons didn't take long to earn a second season. The new Starz (opens in new tab) drama debuted to record-breaking numbers just this past weekend – probably thanks in part to a strong lead-in from departing series Spartacus - and the premium network wasted no time in renewing it.
Starz CEO Chris Albrecht made the announcement today:
Da Vinci's Demons follows the wild youth of famed painter and inventor Leonardo Da Vinci, who has rarely been portrayed as anything other than an aged man on the screen. Set in Forence, Italy, during the Renaissance, the plot follows the genius as he tries to move his work forward, meanwhile becoming involved in mystery and adventure. British actor Tom Riley plays Da Vinci, and Laura Haddock plays Lucrezia Donati, his lover and a woman with connections to the powerful Medici family. She is also British, as are many of the cast members since the show is produced in partnership with the BBC and is filmed in Wales.
If you haven't seen it yet, Starz is offering the first episode for free online, which might help you decide if you want to add the channel to your cable before Episode 2 hits this Friday. With Spartacus now ended, Da Vinci's Demons will take over the 9 p.m. timeslot on Fridays starting this week. Season 2 is set to begin filming next month and is expected to air in 2014.
Your Daily Blend of Entertainment News
Thank you for signing up to CinemaBlend. You will receive a verification email shortly.
There was a problem. Please refresh the page and try again.