Laura Haddock Joins Starz's Da Vinci's Demons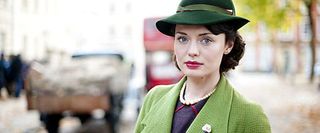 Starz has a new original series in the works, one that will be less based around brawn and violence like hit series Spartacus and more about wit, intellect, and talent. Like Spartacus, however, the pay-cable network's new series will also spin history and fiction, this time to tell a story about Leonardo Da Vinci in his youth. With BBC Worldwide on board to help produce and David Goyer set as showrunner, it's no surprise the show already seems to be on its feet. British actor Tom Riley has already signed on to play the energy-filled young inventor in the show, dubbed Da Vinci's Demons and now Starz has cast its second lead in the period drama.
The famous Italian family, the Medici's, will also play a part in the storyline, and while the show's new casting will not be part of the Medici family, she will have strong ties to the well known clan. British actress Laura Haddock, who can be currently seen on the revamped version of Upstairs, Downstairs and who had a small cameo in last year's Captain America will take on the role of Da Vinci's lover, Lucrezia Donati in the upcoming series. Remember my mention of the Medici family? According toTHR, Lucrezia will also be sleeping with Lorenzo Medici. I smell unnecessary drama.
We still have a while to wait for the new series – while production is supposed to begin in 2012, Da Vinci's Demons won't actually air until sometime in 2013. Still, with the popularity of such BBC crossovers as Downton Abbey and Sherlock a partnership between the BBC and Starz for Da Vinci's Demons sounds like it could be a winner, and well worth the wait.
Your Daily Blend of Entertainment News
Thank you for signing up to CinemaBlend. You will receive a verification email shortly.
There was a problem. Please refresh the page and try again.