Damon Wayans Jr. Is Sticking Around New Girl For The Rest Of The Season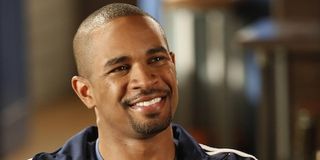 If you watched Tuesday night's episode of New Girl, you saw that Damon Wayans Jr.'s character Coach made his grand return after exiting the series following the pilot episode. Hopefully, you liked Coach, because he's here to stay, at least for this season. Though Wayans is technically listed as a guest star, he'll be appearing in the Fox comedy regularly for the rest of the third season.
Deadline has confirmed that Coach is sticking around New Girl, stating that he's expected to appear in every remaining episode of the third season, though he's being billed as a "special guest star," which leaves him available for pilots. And that's probably a good thing when we consider how things worked out for Wayans last time he was a regular in a comedy and shopping around for another gig. Wayans was one of the stars of ABC's Happy Endings when he took the role as Coach in the New Girl pilot. The part was in second position to Happy Endings, however, so when New Girl went to series and Happy Endings secured a renewal, Wayans' New Girl character was written out of the show, and Lamorne Morris was cast to play the part of Winston, the new roommate, starting Episode 2.
But Happy Endings has ended, leaving a vacancy in Wayans' dance card, which New Girl has apparently filled, and not just for one or two episodes. The character, who reinserted himself into the lives of his old friends as of last Tuesday night's fittingly titled "Coach" episode, is here to stay, at least for now. Given how much things have changed in the lives of his old roommates since he left, it's fun to see how his presence is affecting them now. And there's always the chance Coach could shake things up among the group. Case in point, here's a spoiler from the November 19 episode "Werewolf" (don't scroll down if you don't want to know!
In "Werewolf," Coach and Cece go out on a date! How does this go over with Schmidt? I'm going to guess not well. I think there's a good chance Coach could underestimate his friend's feelings for Cece, as the Schmidt he knew when he was living there was a ladies man. I'll be interested to see if these two actually hit it off, or if this is just a one-episode situation that goes nowhere and is another example of Coach trying to reestablish himself among this group of friends that isn't the same group he left two years ago. The picture makes me think Coach is distracted by his phone, and Cece's not loving that, but that's something that could resolve itself by the episode's end, assuming it's even an issue.
But we're thinking an episode ahead. Before "Werewolf," we have "Menus," in which Coach tries to help get Nick into shape:
Your Daily Blend of Entertainment News
Thank you for signing up to CinemaBlend. You will receive a verification email shortly.
There was a problem. Please refresh the page and try again.