Happy Endings Won't Be Coming Back On Another Network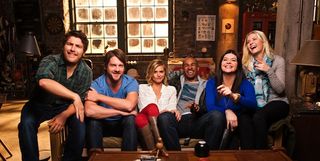 In this day and age, cancellation for a TV series might not mean "gone forever." In some cases a series will get dropped by a network but picked up over at cable. See Cougar Town and Southland for examples of that. And on occasion, a series will get cancelled and then un-cancelled by its own network. Drop Dead Diva is a recent example of that occurring. See also Jericho and Family Guy. And then there's the even rarer but still amazing occurrence when an old show is brought back years after its cancellation. Netflix did that for Arrested Development, and maybe someday, years from now, some network will try to pull that off for Happy Endings. The friends-centric comedy series was cancelled by ABC at the end of its third season, and there was hope that another channel might rescue it, but time has run out and it's time to accept that the series is officially done.
Happy Endings aired for three seasons on ABC, benefiting from a Modern Family lead-in in its first two season airing on Wednesday nights. The move to Tuesday night hit the series harder than it could afford and its ratings slipped noticeably. An awkward shift to Tuesdays and then eventually Fridays didn't exactly help give the show the kind of ratings comeback it needed. Since ABC opted not to renew it at the end of Season 3, Happy Endings' studio Sony Pictures TV has been trying to find a new home for the comedy. THR reports that - in anticipation of the cast's options expiring this weekend - Sony is calling off the search for a new network.
Of the potential channels, USA was looking like Happy Endings best bet. The network is looking to get into the half-hour comedy business, and there was hope that they'd do what TBS did for Cougar Town in adopting the comedy and making it their own. Alas, it's not to be.
Happy Endings began with a wedding disaster as Alex (Elisha Cuthbert) left her Dave (Zachary Knighton) at the altar, drastically altering the group dynamic of their shared friendship with Penny (Casey Wilson), Max (Adam Pally), Alex's sister Jane (Eliza Coupe), Jane's husband Brad (Damon Wayans, Jr.). The wedding that didn't happen was just a jumping off point as the series moved forward and the focus zoomed out to center on the hilarious ensemble of characters. I was always especially partial to this sequence of events, which involve Alex making a mess of herself eating ribs and getting sloppy with Penny over mimosas.
That's just one example of the charming and goofy humor that's going to waste. On the brighter side, the series' cancellation means the cast will be available to move on to other projects. For Damon Wayans Jr., that's reportedly a return to New Girl. The actor co-starred in New Girl's pilot but was written out of the show when Happy Endings was renewed for Season 2. With Happy Endings fully cancelled, and assuming TVLine's intel is still accurate, Wayans will return to New Girl "in some capacity." So we have that to hope for, at the very least. Any chance New Girl could adopt five more characters to join Wayans? It's a big loft…
Your Daily Blend of Entertainment News
Thank you for signing up to CinemaBlend. You will receive a verification email shortly.
There was a problem. Please refresh the page and try again.