Dan Harmon Confirms He's Coming Back To Community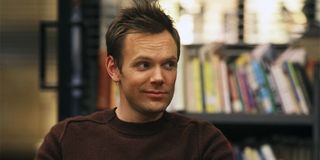 Dan Harmon has confirmed that he's returning to Community. And we have Joel McHale to thank for this, apparently. Harmon let slip that there was a chance he might be returning to his NBC comedy series during a recording of his podcast Harmontown, however it was unconfirmed whether that was really going to happen. Today the former showrunner tweeted that "Yes yes yes! I'm back I'm back I'm back."
Pause to react.
Back in what capacity? He doesn't say. Back as a showrunner would be ideal, but really, we'll take "back" even if it's as a consulting producer, which was originally the title he was offered when they demoted him from showrunner after Season 3. Showrunner would be better. (Update: THR says Harmon is formalizing his deal to return to the show as showrunner.)
The Harmonless Season 4 had its moments, and the characters we've come to know and love were there in stories that seemed familiar, but the series seemed to be running on fumes, lacking the edge Harmon brought to it. I equated it to a sitcom that's showing its age, though Community should still be in its prime at this point in its run. With Harmon getting back on board, we can hope that the show will rev up again and return to some of the sharp and unpredictable comedy we came to know and love in the series' first few seasons.
Hopefully we'll hear word of his title, and I'd be interested to hear any update on whether or not Chevy Chase might come back. Seems like it may be a longshot, but Harmon did reportedly bringing that up (very possibly joking) when talking about his own return during his podcast. I don't want to be greedy but fingers crossed. And GeekOSystem points out that Harmon's return could potentially lead to the return of Starburns - or at the very least, Dino Stamatopoulos. Maybe he could play Starburns' brother Diamondburns. (Or maybe I'm just really excited.)
We'll have to wait and see if there are any further updates related to this. In the meantime, thanks Joel McHale for whatever you did to make Harmon's comeback happen.
Your Daily Blend of Entertainment News
Thank you for signing up to CinemaBlend. You will receive a verification email shortly.
There was a problem. Please refresh the page and try again.