Dancing Fools With Melissa Peterman And Martha's Vineyard Series Coming To ABC Family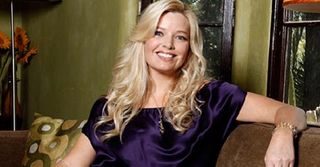 ABC Family has added another two new series today, and although dramas have been the big news with this network, today's additions are both reality series. The two given the greenlight today are Dancing Fools, set to be hosted by Melissa Peterman of ABC Family's comedy Baby Daddy, and The Vineyard, where the vineyard in question is Martha's.
Information on the two series is a little sparse at the moment. Dancing Fools is described as a half-hour unscripted comedy. The nature of the show is a little unclear; although the title of the series seems to suggest a dancing competition of some kind, that doesn't quite match the vague description. Certainly competitions can be funny, but they aren't usually described as comedies. It's executive produced by The Singing Bee's Phil Gurin, a show Peterman also hosted. This is the second new hosting gig for Peterman, who is also headed for the ABC reality series Bet on Your Baby - another show whose title has me wondering what it could be about.
The second reality series, whose title The Vineyard is, so far, said to be a working title, will take place in the famed Martha's Vineyard area and will follow a group of 20-somethings living and working there over the summer. It's described as a "coming-of-age docu-soap" which promises plenty of romance, drama, and mischief in the East Coast summer playground of the rich and powerful. Executive producers on The Vineyard are Biggest Loser's David Broome and Masterchef's Brian Smith.
The two series are both set for spring premieres, so hopefully we'll have a little more information on them especially Dancing Fools in the near future.
Your Daily Blend of Entertainment News