Danny Trejo Is Tough Enough For Season 4 Of Sons Of Anarchy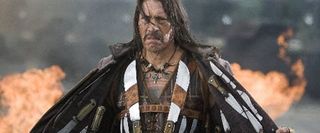 News recently broke that Danny Trejo will appear in Season 4 of Sons of Anarchy as, you guessed it, a bona fide badass. This will not be Trejo's first stint as a tough-as-nails guy, the actor has played similarly hardass characters in everything from Machete, to xXx, and even From Dusk Till Dawn. In Sons of Anarchy, Trejo will play Romero "Romeo" Parada a former commando of the Mexican military who somehow falls into association with the SONS.
According to TV line, this won't be Trejo's first television gig in 2011. Most recently, he showed up in The Finder backdoor pilot on Bones, where he played a priest who is close with lead-actor Walter Sherman (Geoff Stults). He also appeared on an episode of Modern Family as a janitor blatantly hitting on Claire (Julie Bowen).
In the past Trejo had recurring roles on shows like King of The Hill and The Young and The Restless, but has never really delved into a serious character on a well-reviewed television show. If Parada ends up being as interesting of a dude as he sounds on paper, he'll be one more positive on the lengthy list of reasons to watch Sons of Anarchy when it returns to the FX lineup in September.
Your Daily Blend of Entertainment News
Thank you for signing up to CinemaBlend. You will receive a verification email shortly.
There was a problem. Please refresh the page and try again.