David Fincher Reveals Some Of His Fellow Directors For Netflix House Of Cards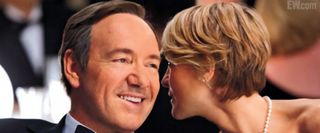 Netflix has been busy putting together a solid slate of series, with a horror show from Eli Roth called Hemlock Grove, the resurrection of Arrested Development and David Fincher and Kevin Spacey's House of Cards all set to debut next year. Even though the latter has been shooting for some time, the new network hasn't released anything except one 'first look photo' but with Fincher in the news recently, having dropped out of Angelina Jolie's Cleopatra right as The Girl Who Played With Fire suddenly picked up heat, a few more details about House of Cards also emerged.
In an interview between the director and Art of the Title (via IndieWire) about his fascinating work in that regard, the Academy Award nominee was also questioned about the Netflix series and happened to reveal other directors working on the project, and the names might surprise you. Fincher said,
Now. I'm no mathematician but I'm pretty sure that leaves, wait for it, five episodes still without a hired helmer. Perhaps Fincher will return to shoot the season finale? They're usually two-parts, that leaves a window for another director to get behind a few House of Cards or maybe one more for each of the three already on board. Either way, it was interesting to find out who will be taking on some the other installments, especially since the list contains Schumacher.
Schumacher! Did you see Twelve? No. No one did. And if they did, I feel bad for them. At least Trespass had Nic Cage being Nic Cage. James Foley is best known for directing the screen version of David Mamet's Glengarry Glen Ross, which is actually quite excellent, and seems like a great fit for the series about the ruthless underbelly of American politics. Like Veep but less funny. Or maybe as funny, since McDougall is well versed in television comedy having just directed the pilot for The Mindy Project as well as many episodes of Sex and the City. Schumacher! House Of Cards debuts on Netflix in 2013. It stars Kevin Spacey, Robin Wright, Kate Mara, Kristen Connolly and Corey Stoll. Based on the novel by Michael Dobbs, the series was created by Spacey and David Fincher.
Your Daily Blend of Entertainment News