Dawson's Creek Almost Ended With Joey And Dawson Together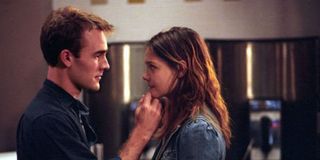 For every teen drama out there, there's probably a lurking love triangle. And for The WB's Dawson's Creek it threatened more than just a romantic relationship, it was a triangle between three best friends. So, when the finale found Joey Potter (Katie Holmes) in the arms of Pacey Witter (Joshua Jackson), plenty of fans were left disappointed. Well now, those fans can revel in the fact that Joey Potter was originally meant to end up with Dawson Leery (James Van Der Beek).
Over the weekend, Austin hosted the ATX Television Festival which reunited the cast and creators of a whole slew of beloved TV series. Among them, Dawson's Creek where co-showrunners Kevin Williamson and Paul Stupin revealed quite the shocker. While the ending the show revealed paired Joey with Pacey, according to Stupin, that wasn't the original intention. During the panel he stated (via TV Guide):
The series begins with an intense friendship between Katie Holmes' Joey Potter and James Van Der Beek's Dawson Leery. The two neighbors have grown up together and are the ultimate best friend duo, but there's also an underlying physical chemistry (later explored) as well. Stupin continued to explain that the writers always intended to have the two end up together, and even started to write the ending in that way:
Throughout the entire series there were two sets of fans, Team Dawson and Team Pacey. Either way, many people were going to be disappointed. But the writer's stuck to their gut feeling and went with the ending they saw the show had evolved into. And regardless of who ended up together romantically, Williamson explained that the three were all some type of soulmate towards each other:
So whether you were Team Dawson or Team Pacey, rest assured knowing that everyone ended as a happy family (of course, RIP Jen), and all are soulmates after all.
Your Daily Blend of Entertainment News