Katie Holmes Making Movie About Being A Single Mom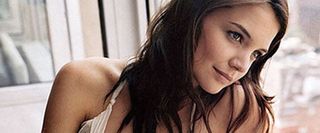 In the wake of news of her unavoidably public divorce from Tom Cruise, Katie Holmes has been pounding the pavement to re-invigorate her long-slumbering career. Shortly after she stepped out of her new New York home to do guest appearance on the upcoming season of Project Runway, People uncovered that Holmes has a passion project in the works that centers on the life of a single mom and her daughter.
The film, titled Molly, is close to Holmes on several counts. Not only is she currently seeking sole custody of Suri, her daughter with Cruise, but she also co-wrote and will co-produce the movie. There's no word yet on if she will star, but it seems likely this could well be a project she's groomed for her return. Little else is known about the project at present, but as the paparazzi is tirelessly tracking Holmes' every move, updates on the film are sure to follow soon. Molly is slated to go into production in New York next month.
Following that, Holmes is scheduled to star opposite Gossip Girl star Chase Crawford in the romantic comedy Responsible Adults. If you're thinking Crawford seems a li'l bit young to play Holmes' love interest, well that's exactly the point. The film centers on a romance between a 30-year-old med student whose brewing romance with a winsome 22-year-old is threatened when she realizes she was once his babysitter. It's a cringe-inducing premise that could certainly score laughs (hell, it worked on The Inbetweeners), and it'll be nice to see Holmes return to something light-hearted (I'm absolving her of Jack and Jill as I think we all should). Plus, there's something strangely perfect about casting a Dawson's Creek alum opposite a Gossip Girl castmember for a May-December—or May-September really—romance as the former was totally a pioneer that made the latter possible. But really, it's just good to have Holmes back on the scene at all. And to her credit, she's mixing it up, going from what seems to be an intimate drama to a cheeky rom-com, and all hot on the heels of wrapping a modern-day adaptation of Anton Chekhov's The Seagull. Brava, Katie!
Staff writer at CinemaBlend.