Defiance Delivers Strong Numbers For Syfy, Watch The Full Premiere Episode Here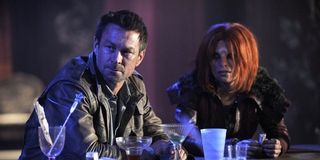 Syfy's Defiance has been one of the more hotly anticipated new series on sci-fi fans radars these days, and based on the ratings, it looks like many of those fans turned up for the series premiere. Defiance debuted on Syfy last night, filling in the space recently vacated by Being Human, which just wrapped up its third season last week. The new series performed well last night, managing to become Syfy's most-watched scripted series premiere among Adults 18-49 since Eureka debuted back in 2006.
Developed by Kevin Murphy, Rockne O'Bannon and Michael Taylor, Defiance is set on Earth after a war with various alien races, collectively called the Votan, has drastically changed the planet's landscape. The wars have ended and humans are now attempting to co-exist with the Votan, to varying degrees of success. The story follows Grant Bowler and Stephanie Leonidas' characters Nolan and Irisa, an adoptive father-daughter pairing of drifters who come across the developing city of Defiance - what was once St. Louis - where humans and Votan are trying to live together in peace. In an effort to get some money and continue on their way, Nolan and Irisa soon find themselves getting more involved in the town's dealings than they might have wanted. And that's just the start of this adventure.
Syfy says the series premiered to an audience of 2.7 million total viewers, with 1.4 million falling under the Adults 25-54 category. 1.3 million were among the Adults 18-49 category and 479,000 among Adults 18-34. Defiance has generated some buzz, not only for being a potentially great new sci-fi series for Syfy, but also for being connected to a video game, which is set in the same world and story, though the setting of the game is in a different location. That allows fans to play and watch without the game and TV show relying on one another for continuity. In other words, those of us who only want to watch the show don't have to play the game in order to keep up, and the same goes for those who only want to play the game.
The show delivered good numbers for Syfy, but it'll be interesting to see how the series does in its second and third episode, and whether more viewers climb aboard this new drama, or more fall away from it as Defiance settles in.
If you missed it, you can watch the full premiere below.
Defiance airs Mondays at 9:00 p.m. ET on Syfy.
Your Daily Blend of Entertainment News
Thank you for signing up to CinemaBlend. You will receive a verification email shortly.
There was a problem. Please refresh the page and try again.