Designer Betsey Johnson's Reality Series Hits Style Network This Spring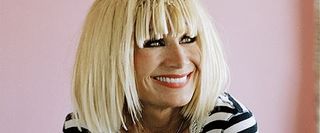 70-year-old fashion legend Betsey Johnson is headed for reality television. In spite of some financial troubles – the designer filed for bankruptcy earlier this year – Johnson doesn't seem to be spending any time moping. Cameras have already started rolling on Betsey + Lulu, which will air on Style Network in the spring.
Betsey Johnson is known for a bubbly personality and a habit of doing cartwheels and landing in the splits on the runway during her fashion shows, which she did just this week – yes, at 70 – for her spring line launch. Afterwards, a birthday party for Betsey included daughter Lulu, the very same from the name of the new show, jumping out of a cake and a performance by Cyndi Lauper. Lauper is the perfect match for Johnson, whose designs reflect the fun and glamorous spirit of the 80s. She's known for bright colors, ruffles and bows, animal prints and a very over-the-top style that proves you have to get old but you never have to grow up.
The series will follow Johnson and Lulu as they prepare to launch an affordable line of dresses, and deal with the usual ups and downs of a close mother-and-daughter relationship that blends their private lives with business. THR says the new line will debut at the same time as the reality series, of course, since there's nothing quite like a reality show to help boost a business endeavor. While I am not much of a reality show person, Betsey Johnson is a fascinating character whose young-at-heart and fun-loving attitude shows in her work, and this one sounds like it will be fun to watch.
Your Daily Blend of Entertainment News