Desperate Housewives Will Be Done After This Season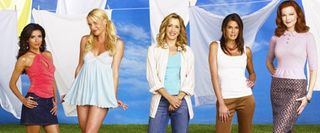 Facing slowly faltering ratings and increasingly out-there storylines, there was little surprise when ABC announced it was discussing dropping Desperate Housewives. Though the network's program still holds a decent fanbase, U.S. interest over the years has steadily dropped. It took only a few weeks to decide the ladies of Wisteria Lane will soon be a wistful memory.
The women will be gone soon, but not before they wreak another season of havoc. Desperate Housewives has already been optioned for Season 8, so if there is any storyline that needs to be tied up, the show has been given plenty of opportunity. According to Deadline, ABC did have options on the four leading ladies to bring them back for Season 9, but ultimately, they decided it just wasn't worth it. Word on the street is all the principal actresses are pretty shocked and saddened by the show ending.
It's probably for the best, though. While Desperate Housewives is still pulling strong international ratings, it would only be a matter of time before the show pulled an E.R. or a Law and Order or a Grey's, and lost American audiences completely. If ABC has a show in mind to fill the ratings niche, the network will do fine. Even if the network hasn't found a sure thing, the cancellation will at least facilitate going in a new direction. Long gone are the days when Housewives pulled in 20 million or more viewers an episode. Plus, with showrunner Marc Cherry gone, Season 8 will be far more of gamble than a sure thing. You should gamble on the colts, not the old stallions.
Your Daily Blend of Entertainment News
Thank you for signing up to CinemaBlend. You will receive a verification email shortly.
There was a problem. Please refresh the page and try again.