Dexter Comic-Con Panel Live Blog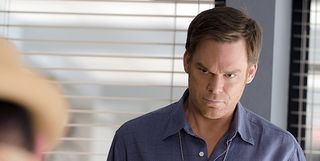 In previous years, Comic-Con was the perfect time of year to get the new preview for the upcoming season of Dexter, which usually didn't air until the fall. However, Dexter got an early start this year, debuting Season 8 a few weeks ago, which means we're currently amidst the Showtime drama's final season. So, this year's panel should be more exciting than ever, as it's less about getting to see a preview of the upcoming season as it is about celebrating the series as it prepares for its grand departure. The cast - including Michael C. Hall and Jennifer Carpenter - are set to appear, along with some of the executive producers. And who knows? We may just get some clues as to what might be in store for Dexter Morgan, his friends, family and coworkers in the remaining episodes.
Here's the official description for the panel:
Stay tuned and we'll start updating once things get started! Internet's been a bit choppy, but I'll try to keep the updates coming!
6:33 P.M. PST - starts with a video with Season 8 footage as the cast and crew talk about the show wrapping up. The cast and crew thank the fans. In addition to the main cast, people like John Lithgow and Julie Benz from previous seasons also made appearances. Dexter: The Complete Series and Dexter Season 8 arriving November 5. The complete series comes in packaging that looks like a blood slide box. And Amazon is going to release the blu-ray set, packaged in the white mannequin bust Dexter uses to recreate blood spatter at work.
6:40 - We get a kill reel of creepy and violent scenes from Dexter's past. It's a great look-back on the series. It's a reminder of just how many bodies have been on Dexter's table.
6:44 - And the panelists have arrived! Lots of cast, lots of cheers. People really love Quinn and Batista! Lauren Valez is here! So is Eric King. LaGuerta and Doakes! Julie Benz is the next surprise. Jennifer Carpenter and Michael C. Hall got huge applause. Hall H is filled with some very happy Dexter fans right now!
6:47 - The series has wrapped its last episode already. Scott Buck asked about his writing staff. He says it's unusual among TV staffs that Dexter's writing staff is 50% women. Desmond says Comic-Con is amazing. John Lithgow did a video message. It starts with a creepy flashback of Trinity walking through Miami Metro. "Hello, Dexter Morgan fans..." He says he wishes he could be with us, but as we all know, he's dead. He says not a day goes by that someone doesn't recognize him as a psychopath. And he's a Dexter fan too now.
6:50 - Jennifer says Deb's situation makes her life looks really good. She feels like a stunt car driver - Just when you think you know how Debra drives... She can't complete the metaphor because she doesn't know how a stunt car driver drives. Michael C. Hall talks about Dexter being over. He thinks there's some unconscious part of them that hasn't accepted that it's over. Months from now they'll probably realize it.
6:53 - Possible very vague spoiler here. Julie Benz says "It's ending on a high note." It's possible she was referring to the production ending, but she might have been referring to the finale. Eric King jokes about Doakes not being dead. Lauren says it feels like she just saw everybody. She thanks the fans for watching.
6:55 - Aimee Garcia says she's honored to be given the chance to explore Jamie's various... naked side. Desmond says Michael's work ethic is unbelievable. Yvonne Strahovski is on the panel but she says she can't give away anything. She says Hannah's coming back, but we don't know if "her revenge is going to be..." She caught herself there, and it's possible she just gave something away. But she clarified that she meant to say we don't know if her motivation is going to be for revenge.
7:00 p.m. - Michael says Dr. Vogel refrains the entire origin story for Dexter. He calls it a unique mother-son-esque dynamic and says Dexter is reexamining what he knows about his father, now knowing Harry was sort of parented himself. He describes Vogel as inherently mesmerizing. Sara Coleton is taking about choosing Charlotte Rampling. She was their first choice on the role.
7:04 - Manny Coto is talking about getting inside the character's heads and figuring out what they might do. Clyde Phillips says the production values come after the acting and writing. He says the voice-over adds both humor and tension. He gives credit to the writers.
7:05 - Aimee Garcia says she likes Japanese animation. Michael C. Hall says he was always a Hulk fan. He says in a way, Dexter was his chance to play his own version of the Hulk. They're asked about easing the tension after a big scene. David jokes that sometimes they play football with a foot. Lauren is asked about the pressure of doing a scene where your character dies. Lauren says the writing for her final scene was so intense and incredible. She says it was so beautifully rounded. She couldn't wait to do it.
7:08 - Erik says Michael made him want to do the best scene possible. It sounds like he's really inspired by Hall's talent. Jennifer Carpenter says she has a really visceral reaction to everything and everybody here. When she's doing a scene, she's a live wire until the scene is done and she can recover on the way home. It also sounds like she's conflicted about how she feels about Dexter as a serial killer.
7:11 - Michael is asked if he'd do another series. Hall says he learned after Six Feet Under when he said he'd never do another television show to never say never. He says he's gotten into TV at a time when the medium's in sort of a renaissance. He feels really, really lucky to have been able to do that.
7:14 - Hall says he thinks we're meant to be suspicious of Dexter's claim that he's a pure psychopath. This was in response to a fan questioning Dexter's monologue. Jennifer Carpenter says she wants Deb to die. She wants Deb to go to the bottom of the abyss where all of her secrets lie and be there. It sounds like Carpenter wants some serious closure for her character so she can sleep at night and not wonder about her for the rest of her life.
7:17 - Julie Benz says she's died on many shows before but they were all supernatural situations so she always came back. With Rita, she's really dead. She said she had to mourn the loss of Rita. She says it was so sudden that it really affected her on a deep level. A fan asks how far ahead the actors know when something big is coming. Erik says the producers sat him down and explained it to him with plenty of time to prepare. He jokes about Doakes being around for eight seasons saying "I'm watching you" to Dexter. Dexter probably wouldn't care after a while.
7:20 - Lauren talking about Maria dying. She started to wonder when Maria was promoted to captain. She wasn't surprised when she found out about it, but she wasn't prepared either. She said it's like losing someone very suddenly.
7:22 - Desmond says it's weird, Dexter is a serial killer but Quinn, at times, can be a scumbag. He says he's a corrupt guy, but he has his own code that he lives by. Desmond joking about how long his character has lived. Moderator notes Deb's track record for dead boyfriends, which does make Quinn's survival seem like even more of an accomplishment.
10:25 - A fan asks if there's any chance Harry was Dexter's biological father. The answer is no, Deb and Dexter are not blood related. Michael C. Hall says he's going to take Dexter's watch and his Miami Metro lanyard. He also likes the blood spatter images from Dexter's lab, but someone took them. I think Jennifer Carpenter says she grabbed them. Michael C. Hall says he took a portion of the railing from Dexter's apartment, which he plans to put in his backyard. Desmond says he took all the gold Quinn wears. It's fake, he says. Hannah took the black orchard. Jennifer says she took a lot of stuff. Desmond says she bagged stuff.
10:29 - Someone asked if we'll ever get to see a Harrison spinoff. Michael C. Hall jokes that in 25 years there will be a series called Harrison and Dexter will have died and he'll be Harrison's dead internalized father. I'd probably watch that.
And the panel is wrapping up with thank you's from everyone on the panel and kind things to say about working on the show.