Dexter Reaction: Season Four Finale - The Getaway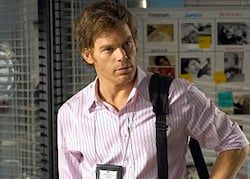 Has Dexter's dark dreaming come to an end? Or is the dream about to get even darker than we ever imagined? Tonight's season four finale of Showtime's Dexter has made the most indelibly life changing affect on who our favorite crime fighting serial killer will be as he moves forward with the pieces of a normal life. For four seasons we've watched as Dexter Morgan gripped with a tenuous grasp on what his friends, family, and co-workers believed to be his average life.
As with the rest of the season this finale was masterfully created and executed. In essence what we got was a typical Dexter finale: the big bad finally caught, a twist, something to change the game going into the next season. But never before has Dexter himself been so changed by events in present day. The final moments, and Trinity's last act, could likely have as much affect on Dexter as his mother's murder all those years ago in the shipping container.
The moment Dexter gets the voicemail from his wife, and hears his child crying in the bathroom, you move from feeling hopeful that the Dark Passenger could someday be put to rest and right into disturbed fear for what you know is waiting in the tub. Rita, dead and in a pool of her own blood, with Harrison sitting on the bathroom floor; the child a mirror image of Dexter and Brian. And to get to that point the writers didn't just twist ending us, they gave us a creepy closing kill scene with Trinity and Dexter.
This season has been about Dexter trying to make a family life work. From the start when he was too tired to think straight, to idolizing Trinity for holding together his own family, Dexter has been struggling to make sense of the Dark Passenger's place in his life. And as we came to the end it appeared that Dexter had, if not found the answer then at least discovered the potential path to take. Waiting for death Trinity told Dexter that he was just a child, that he didn't understand the demon inside will never let go.
And that's the question: will the demon ever let Dexter go? Is Trinity responsible for keeping the monster fed and wanting more blood? Or perhaps he's given Dexter his freedom in some inexplicable way. Is it too much to hope that being tasked to raise three kids on his own Dexter will finally find some sort of peace? Yeah, I don't think so either.
Quickly about the season in general: bravo to the cast and writers. Michael C. Hall always gets his deserved praise. And if John Lithgow doesn't walk away with next year's Emmy it'll be an honest to god upset. But in particular Jennifer Carpenter's portrayal of Debra Morgan has been insanely good this year. She's the character I have the most sympathy for (can she please get a frickin' break in the romantic realm?). And while they're setting up Quinn to be the guy on Dexter's ass next season, I know of no one else who should finally catch the Dark Passenger than his sister.
Your Daily Blend of Entertainment News
Staff Writer at CinemaBlend.