Dick In A Box, Others, Win Emmys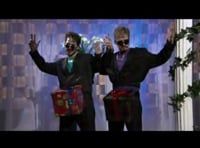 There's plenty of news to report from the Creative Arts Emmy Awards, the precursor to the primetime Emmys that air on September 16, but the biggest first: Justin Timberlake now has an Emmy. As if the man weren't busy conquering the music industry and actually doing some decent film performance, he and Andy Samberg won the award for Best Music and Lyrics for that internet phenomenon, "DIck in a Box."
In case you've somehow gotten amnesia since last December, "Dick in a Box" was a digital short that originally aired on SNL, in which SNL regular Samberg and guest host Timberlake dressed up like a 90s-era boy band and sang about the perfect Christmas gift for a guy to give his lady. While the version that aired bleeped out the key anatomical word, an unedited version flew around the Internet, and it was impossible to do your Christmas shopping without singing to yourself "Step One. Cut a hole in the box..."
"I think it's safe to say that when we first set out to make this song, we were all thinking, 'Emmy!'," Samberg said when accepted the award, according to the BBC. "The other thing we were thinking was, 'Hey! There's this young up-and-comer, Justin Timberlake, who is clearly very talented and could really use a break." Samberg also said he'd be willing to perform the song live at the primetime Emmys, which would absolutely be enough to keep me watching the entire ceremony.
The Creative Arts Emmys are generally the lower-profile awards, for technical accomplishments (cinematography, costume, editing) and smaller acting awards like guest appearances. The HBO miniseries Bury My Heart at Wounded Knee, which earned the most overall nominations this year at 17, also took home the most awards at the ceremony, with five total: cinematography, picture editing, makeup, sound mixing and sound editing. The Discovery Channel's Planet Earth-- which won for best nonfiction series-- and NBC's Tony Bennett: An American Legend came in second with four each.
As happens with the regular primetime Emmys, it was appearances by actors and their acceptance speeches that added the most fun to the ceremony. Kathy Griffin accepted the award for best reality program for Kathy Griffin: My Life on the D-List (that seriously beat Top Chef?!?!) and said, according to the Hollywood Reporter "Can you believe this shit? Hell has frozen over. Suck it, Jesus, this award is my god now.".
Leslie Caron, who made her acting debut in 1950 with An American in Paris also won her first Emmy, for her guest spot on Law & Order: SVU. "In 1951, I was named most promising newcomer; I'm glad I finally realized my potential," she said.
Other acting winners included John Goodman, for his guest role on Studio 60 on the Sunset Strip, Stanley Tucci for his guest role on Monk, and Elaine Stritch for her appearance on 30 Rock. "I'm a recovering alcoholic, a riddled diabetic and I've got laryngitis, but I just won an Emmy," Stritch said at the podium.
The ceremony will air at 8 p.m. next Saturday on the E! network, where you can see all the clever acceptance speeches and awards bestowed on people you've never heard of for yourself.
Your Daily Blend of Entertainment News
Staff Writer at CinemaBlend