The Dick Van Dyke Show Picked Up By TV Land In Time For 50th Anniversary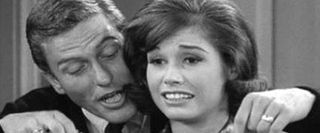 TV Land used to consider itself a "classic TV" station. When I was a younger I could catch Bewitched or Happy Days or other programs from before my time. That sort of changed in recent years with the network picking up a wide variety of more recent programs, from Everybody Loves Raymond to Boston Legal, and even Extreme Makeover: Home Edition. That latter one is especially befuddling for me, but it's nice to see TV Land's newest acquirement will take the network back to its roots.
TV Land has picked up the ever popular The Dick Van Dyke Show and will begin running episodes on October 3rd. Deadline is reporting the network will kick start the release with back-to-back episodes running in the evenings through October 7th, marking The Dick Van Dyke Show's first week on the channel. If you don't want to catch episodes on TV Land, the classic is also currently available on Hulu.
TV Land's purchase of syndication rights came at a good time. The Carl Reiner created program, featuring Van Dyke and Mary Tyler Moore, began airing in 1961 and ran for five seasons. This year marks the fiftieth anniversary since the show first aired and in fact, the October 3rd release date will mark The Dick Van Dyke Show's 50th Anniversary to the day. With iconic film Breakfast at Tiffany's also up for its 50th Anniversary, this year is looking to be a good one for nostalgia.
TV Land's reruns of The Dick Van Dyke Show will premiere on Oct. 3 from 6-9 p.m. ET
Your Daily Blend of Entertainment News
Thank you for signing up to CinemaBlend. You will receive a verification email shortly.
There was a problem. Please refresh the page and try again.