Don't Trust The B In Apt 23 To Finish Its Season 2 Run Online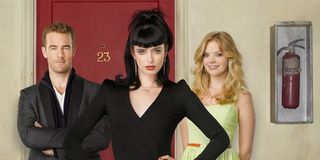 It was bad news for Don't Trust the B In Apartment 23 back in January, when the series - which had already been moved to Sundays - was yanked from the schedule entirely. While it's probably safe to assume the Apartment has been evicted from ABC's building, fans of the series can still see what's left of the series' second season this Spring when it's released online.
Don't Trust The B In Apartment 23 may have had an overly wordy title, but the series was actually pretty funny, thanks in large part to Krysten Ritter's snappy wit, Dreama Walker's sweet and occasionally goofy performance as June, and James Van Der Beek's willingness to regularly poke fun at himself, playing none other than the Beek from the Creek, himself. And yet, none of this was enough to keep viewers tuning in, which resulted in low ratings, ABC's eventual decision to push the show around the line-up and eventually pull it completely.
TVLine reported today that the remaining eight episodes from Season 2 will see the light of day online. The series will run out its second season on ABC.com, iTunes and Hulu, giving fans to see what's left of this underrated comedy. The episodes will go live May 17, which is just a few days after ABC's upfront presentation, which will most likely mark the final death blow for the comedy, assuming official word on the show's cancellation isn't announced before then. On the bright side, at least there are eight more episodes to watch.