Elizabeth Banks Will Reprise Her Role As Avery Jessup-Donaghy On NBC's 30 Rock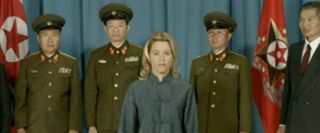 It's not like Elizabeth Banks is exactly hurting for work. You can currently catch the loveable leading lady as Effie Trinket in Gary Ross' The Hunger Games, also known as the biggest movie in the world. And just yesterday, the first trailer for her next film People Like Us was released and it looks like another great turn from the versatile actress. She's also got two other features on the way but that's not stopping Banks from making her triumphant return, or should I say rescued return, as Avery Jessup-Donaghy to NBC's 30 Rock.
Deadline reports that the former right-wing talk show host who was taken captive by North Korea during the network's hot-blondes-in-weird-places initiative will finally be returning to the sitcom. The last time we saw Banks as Jack Donaghy's wife (and baby momma) was in the fifth season episode "Everything Sunny All The Time Always" and, according to the article, her reappearance is set for May sweeps. The adorkable (ugh, sorry but it for once is an apt descriptor) actress and her on-screen husband Alec Baldwin were teasing the return just today on twitter,
I suppose it's not entirely accurate to call Alec Baldwin Bank's on-screen hubby since Avery was not just forcibly detained in North Korea but she was also married to Kim Jong Un against her will. The Donaghy's better find themselves a pretty brave divorce attorney. NBC has been making plans to rescue Avery for some time now but with Banks busy feature film schedule it hasn't been easy to lock her in for another guest spot. I'm actually a little surprised that the article doesn't specifically mention whether the return is only a one-off or multiple episode arc because her character is known to recur. Could more trouble be brewing for Avery and Jack? Either way, I'm looking forward to Bank's first stint on 30 Rock in over a year.
30 Rock airs Thursdays (tonight) at 830 p.m. ET on NBC. It stars Tina Fey, Alec Baldwin and Tracy Morgan. It was created by Tina Fey.
Your Daily Blend of Entertainment News