Entourage: The Complete Seventh Season DVD Review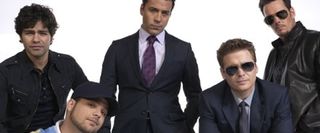 While Vince (Adrian Grenier) is often not at the center of Entourage, the show still manages to revolve around him. The problem seems to be that, of the entire cast, he is still the most bland. So what do you do with a character who's lacking in personality? You give him a drug problem, of course, and that's exactly what Season Seven of Entourage does.
Vince's troubles began when he decided to tackle a dangerous stunt himself. That moment served as a kick-start for the rest of Vince's season. He fell hard into drugs and even started dating a porn star, played ably by Sasha Grey, a real-life porn star who's making the transition into movies. His friends are there when a drug test threatens his film project, but the depths of his problem are what finally bring the gang back together.
The boys are so busy with their own business ventures and personal lives, Vince is left very much to his own devices throughout the season, and we learn (or reaffirm) that he's a total mess without their support and guidance. Think of it as the third act of a romantic comedy when the guy and the girl break up and you think for a moment that their deep personal connection is going to be severed forever. But, of course, you know they'll be back together in time for the closing credits. Well, Season Eight is the final act of Entourage, so this was the season to break up the band and see how they sink or swim on their own.
All in all, it proves to be an entertaining exercise, and some of the stronger moments we've seen from Adrian Grenier in a few seasons. The seriousness of his drug problem gives the show a focus that it's been lacking in recent years. Surprisingly, Drama's (Kevin Dillon) professional evolution turns out to be a lot of fun this season as well, specifically because he is dragged kicking and screaming through the process. Turtle's (Jerry Ferrara) business dealings are a little bit disappointing, while Eric's (Kevin Connolly) growth as a manager remains fun to watch. He's easy to root for.
Drama has big dreams of being a dramatic actor, but through the course of these 10 episodes, he has to re-evaluate those dreams and perhaps stick to what he's best at, which is making people laugh, whether he means to or not. While we loves the battle between him and John Stamos, and ultimately him and Bob Saget (it's a Full House reunion!), the new direction that Eric and a cleaned-up Billy Walsh try to push him in is actually perfect for him, and propels him into Season Eight.
As for Ari (Jeremy Piven), he remains as beautifully sadistic and twisted as possible. But Ari is only as fun as his nemesis, and Lizzie (Autumn Reeser) proves to be quite the thorn in his side this season. After all the screw-ups her sleeping around has caused for her and the company, Ari reluctantly lets her into a meeting with the NFL, where her knowledge proves helpful in pushing a potential deal to return football to L.A. forward. But when she demands to be placed as head of the television department, Ari refuses and pushes Lizzie into Amanda's (Carla Gugino) waiting arms. Amanda is still bitter Ari cost her a job as head of the studio, and now this two-headed rage monster finds it has the power and the will to destroy him, and maybe even steal his NFL deal.
The lack of friendship and unity among Vince's friends actually puts a strain on the comedy of the season, as well as Vince. The fracturing of the group creates a darker tone that permeates the season, except for Drama's scenes, but in the context of the entire series it actually works quite well. There are still laughs and the usual bevy of guest stars we've come to expect from Entourage, though. You get appearances by Stan Lee, Jessica Simpsons, Mike Tyson, Aaron Sorkin, Queen Latifah, Christina Aguilera, and a memorable end to the season at a private party held by Eminem that marks Vince's rock-bottom moment in his season-long journey toward self-destruction, and the darkest moment for his character.
The DVD set is light on features, with one seeming almost entirely self-indulgent and the other just lacking in the kind of depth you want in a behind-the-scenes featurette. "The Shades of Sasha Grey" was inserted to justify and explain the casting of Sasha Grey in a role based on her real-life aspirations. Heavy-handed would be an understatement for this useless vignette. It's the kind of thing you might see her create for a prospective agent who won't take her seriously. As a behind-the-scenes featurette, "Inside the Hollywood Life" doesn't go nearly as in-depth as I would have liked. Instead, it's a pat on the back to all the great guest stars they got. Beyond that, we get two episodes with audio commentary, which is the only place you're going to find some fun and frivolity as there isn't even a gag reel on this one.
Luckily, creator Doug Ellin, executive producer Ally Muskia, Kevin Connolly, Adrian Grenier, Jeremy Piven, and Jerry Ferrara are a lot of fun on both episodes (Episodes 6 and 9). They bring that ease and camaraderie that only comes from having worked together for so long. It's the best kind of commentary track, like listening in on a group of good friends who are just happy to know one another. Also, since these were recorded more recently, there are plenty of teasers for the eighth season to whet your appetite for the final run of Entourage.
Length: 330 min.
Distributor: HBO Studios
Release Date: 7/22/11
Starring: Kevin Connolly, Adrian Grenier, Kevin Dillon, Jerry Ferrara, Perrey Reeves, Rex lee, Emmanuelle Chriqui, Scott Caan, Jeremy Piven
Directed by: Doug Ellin, Tucker Gates, Ken Whittingham, Adam Davidson, Dan Attias, David Nutter, Kevin Connolly
Produced by: Mark Wahlberg, Stephen Levinson, Doug Ellin, Rob Weiss, Denis Biggs, Ally Musika, Wayne Carmona, Lori Jo Nemhouser
Written by: Doug Ellin, Ally Musika
Visit the Entourage Official Website
Your Daily Blend of Entertainment News