Estelle Getty Passes Away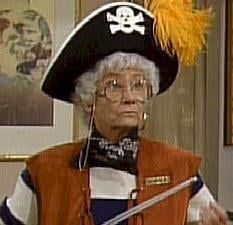 Golden Girls star Estelle Getty passed away earlier today. The woman popularly known for her role as the perpetually cranky Sophia Petrillo on The Golden Girls died in her Los Angeles home surrounded by her family. She was 84-years-old.
According to TMZ, Getty had been suffering from Lewy Body Dementia for years. A note on Getty's website said she died gracefully.
Getty always brought a certain blunt honesty to the role of Sophia. I remember as a kid thinking that was one old lady I never wanted to mess with. She received multiple Emmy nominations for the role. Here's a clip from The Golden Girls, in case your memory of the series is a bit rusty or you just feel like reminiscing a bit in honor of Ms. Getty.