Extended Promo For The Roast Of Bob Saget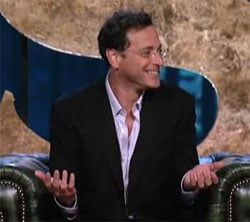 This weekend Comedy Central is set to air the Roast of Bob Saget. We've got the extended trailer here for you if you want to get a little taste of what's to come before the event airs on Comedy Central Sunday, August 17th at 10:00 p.m./9c. Guests include Greg Giraldo, Jeffrey Ross, Norm Macdonald, Jon Lovitz, Gilbert Gottfried, Jim Norton and Susie Essman.
More information about the Roast is available on Comedy Central's website. This includes info on the Roast Master, John Stamos as well and bios on the various Roasters who, based on the promo below, don't appear to be pulling any punches with this Roast.