Eye Candy Just Got Cancelled By MTV After One Season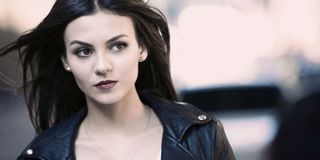 Earlier this year, MTV released a thriller television series based off of the R.L. Stine novel of the same name, Eye Candy. The show had mixed reviews but starred talented Victoria Justice, so there was hope. Looks like that hope was quickly lost though, as Victoria Justice herself confirmed to fans that the technothriller series would not be making it to a second season.
Justice took to Twitter late last night to confirm the cancellation, informing fans that she wanted to be the first to break the news. She continued:
Justice thanked her fans and her co-stars, and reiterated how proud she was of the show. It didn't sound as if there were any hard feelings in the mix, but it was also fairly clear that the actress really did love her starring role.
The 22-year-old actress has appeared in a number of Nickelodeon series including her starring role in Victorious. She's made appearances in a number of films as well including Unknown and The Garden. But her particular role in Eye Candy was probably one of her most exciting yet. Justice played Lindy Sampson, a tech genius on the hunt for a serial killer. It all begins when her roommate convinces her to try online dating, and in return she fears that one of her matches may be a deadly cyber stalker. Lindy decides to go after him, providing her own style of justice with her team of hacker friends. All the while, Lindy continues searching for her kidnapped sister who went missing years ago.
Justice's role in Eye Candy had a lot of depth to it. And while many critics find strength in Justice's acting chops, they also argued that the role was not a good match. Clearly, Justice was quite passionate about her time as a computer-hacking badass (which was probably a breath of fresh air from her usual kid-friendly roles).
The cancellation of the series does not come as such a surprise though. The project has had some problems in the past and was completely redeveloped after the pilot with just Justice and one other original actor who actually continuing with the series. The 10-episode first season premiered back in January and according to The Hollywood Reporter, averaged about 592,000 viewers during its run. Justice was joined by Casey Deidrick, Harvey Guillen, Kiersey Clemons and John Garet Stocker as series regulars.
Your Daily Blend of Entertainment News