FOX Still Keen On A House Spinoff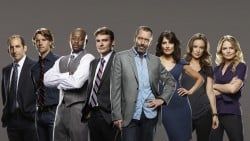 FOX is still looking for another series from House executive producers David Shore and Katie Jacobs, according to Entertainment Weekly. Their proposed spin-off of around the Lucas Douglas character -- the private detective House hired, who wound up dating Cuddy - didn't come together as they'd hoped, but the network would love to see a two-hour block by the pair on Monday nights.
With House performing great at 8 PM ET, it comes down to what would make a good companion. The pair can either look for another spin-off of house (where did that pesky Cameron wind up, anyway), or create something completely new. Jacobs is already working on a remake of The Rockford Files for NBC, but would love to have a 9 PM ET show for FOX to air. "Maybe a spin-off or maybe just another show from the two of us," she said.
It's a virtual no-brainer for FOX to let them do their magic. They struck gold for the network with House, which is their biggest show in the fall seasons, and a big reason they secured number one in the ratings this year even before they trotted out American Idol.
I'd love to see a spin-off of House, as long as it wasn't the same thing. There is only one Dr. House, so it would have to stray away from diagnostics medicine in some way, otherwise I don't think people will support it. The reason House works is because he is one of a kind. So what do you spin off?
I'd recommend they consider a series set in the Mayfield Psychiatric Hospital House was checked into at the beginning of the season. It's unfortunate that Andre Braugher is doing so well now on TNT's Men of a Certain Age, as that makes him unavailable to recur his character, unless it was reduced to a recurring role. Staff it up and deal with mental health rather than medical health. It has to turn out better than FOX's Mental did.
How would you spin out of House?
Your Daily Blend of Entertainment News
Your Daily Blend of Entertainment News
Thank you for signing up to CinemaBlend. You will receive a verification email shortly.
There was a problem. Please refresh the page and try again.