FX Nabs Bryan Cranston And Others For Archer Season 3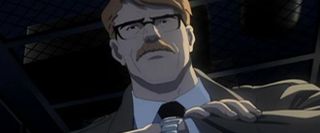 The third season of Archer premieres in just over a week. Earlier today, we shared some never before seen footage as a preview for the highly anticipated new season. This year - including this falls' three-part tease, "Heart of Archness" - was already filled to the brim with amazing guest stars like Patrick Warburton, David Cross and, Sterling's idol, Burt Reynolds but, with these new announcements, they have really outdone themselves. Among a few others, three time Emmy Award winning Bryan Cranston will lend his voice to the FX animated comedy.
The Huffington Post caught up with the show's creator Adam Reed, who not only spilled several details on Bryan Cranston's appearance but also shared that 30 Rock's Jack McBrayer and The Walking Dead's Michael Rooker will show up in guest spots this season. While the prospect of having Kenneth and Merle in Season 3 is exciting - especially McBrayer because I can only imagine how grating Sterling would find his cornfed charm - those guest spots pale in comparison to a visit from Heisenberg.
We shouldn't forget that before Cranston was winning Emmy's as the amazingly complex Walter White on AMC's Breaking Bad, he was making us laugh as Tim Whatley on Seinfeld or Hal on Malcolm in the Middle. He also honed his voice-acting chops as Gordon in DC's Batman: Year One. Regardless of his credentials, I have little doubt that the talented actor will be able to provide big laughs on the Archer Season 3 two-part finale. Oh, did I forget to mention that the appearance will have Cranston guest on not one but two episodes? Including the season finale no less? Apparently, Cranston will voice an astronaut named Commander Drake who is desperately trying to prevent a mutiny aboard his space station. The question becomes… Is Isis (we're still unclear who exactly from the team will be going into space) invited aboard the space station to assist Drake or are they the ones staging the mutiny? We'll have to wait and find out.
Archer Season 3 returns January 19 at 10p.m. ET on FX. It stars H. Jon Benjamin, Aisha Tyler, Jessica Walters, Judy Greer, Chris Parnell and Amber Nash. It was created by Adam Reed.
Your Daily Blend of Entertainment News
Thank you for signing up to CinemaBlend. You will receive a verification email shortly.
There was a problem. Please refresh the page and try again.