FX Ships Off It's Always Sunny And The League To Anchor New Network FXX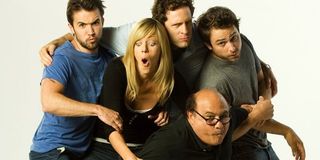 FX is already making some of the best and most boundary-pushing comedies on TV, from Louis C.K.'s Louie to the long-running cult hit It's Always Sunny in Philadelphia. But with the strength of their dramas like Justified and The Americans increasing, the network seems to have decided they can dominate twice as much by expanding to a whole new network.
Announced today, the network FXX will be "slightly more comedy focused" than FX, according to the network's general manager John Landgraf, but more importantly will be zeroing in on viewers between 18 and 34. Anchoring the channel will be It's Always Sunny and The League, two veteran comedies both renewed, as well as a second season of the new comedy Legit. Totally Biased with W. Kamau Bell will come back for a third season on FXX and will switch to a five-nights-a-week format. But Louie, which might be the most critically acclaimed show on TV period, seems to be sticking tight at FX, and according to a tweet from The New York Times's Dave Itzkoff, it will be returning in April of 2014, following a previously announced hiatus.
Smartly, FXX is also bringing in some big names from the past to shore up their roster-- reruns of Arrested Development and Aaron Sorkin's short-lived Sports Night will also be airing on the new network, which is launching into 74 million homes on September 2. They're also planning to add six original comedies as well as original dramas to the lineup-- an ambitious roster for any new channel, but probably just a logical next step for a network that's had as many slam-dunks in recent years as FX.
Your Daily Blend of Entertainment News
Staff Writer at CinemaBlend