FX's Terriers Now Available On Netflix Instant Watch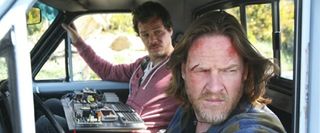 Every once in a while, in between covering reality TV and stories about yet another ill-conceived remake, I get to write up a post that puts a big stupid grin on my face. This is one of those occasions. Netflix has added the brilliant, tragically short-lived, and unforgivably underwatched series Terriers (opens in new tab) to their Instant Watch catalogue. You need to add it to your queue, like, right freaking now.
Terriers was created by Ted Griffin (Tower Heist) and exec produced by Griffin, Shawn Ryan, and Tim Minear. Ryan brought us awesome shows such as The Shield and The Unit. In addition to working on both Buffy the Vampire Slayer and Angel, Minear has worked on a slew of wonderful and/or intriguing shows: Firefly, Wonderfalls, The Inside, Drive, Dollhouse...and Terriers. Of all those short-lived gems, Terriers is the one that still breaks my heart the most. Well, maybe it's a close second behind Firefly.
So, what is this Terriers thing anyway, you might ask? Your ignorance wouldn't surprise me, because FX's ad campaign for Terriers did the show no favors whatsoever. They pretty much showed the stars, Donal Logue and Michael Raymond-James, sitting on the front stoop of a building in silence while a dog walked past. That was it. Or then there was this one. What the hell was this show about? Was it about dog owners? They both looked kind of tough, so maybe they were dog catchers? Did they solve crimes with the dog? Combined with the uninformative title, Terriers had an uphill battle attracting viewers from the get-go.
And that's a damn shame, because those few of us who found the show fell in love hard. Focusing on two unlicensed private detectives named Hank (Logue) and Britt (Raymond-James), Terriers mixes case-of-the-week stories with a larger plot arc, not to mention the messy snarl of Hank and Britt's private lives. Hank's a recently fired former cop struggling with alcoholism and still hardcore in love with his ex-wife. Britt is a former criminal Hank took under his wing to set straight. The show plays out almost like a grown-up, scruffier version of Veronica Mars, with the same San Diego setting and the same brilliant mix of compelling, deeply flawed characters; crackerjack dialogue; and an overarching season-long story-arc that slowly reveals itself. Hank and Britt are two of the best characters to grace TV screens in a long time, and I'm still gut-punched that the show didn't get to continue.
Thankfully, it did get one complete, completely amazing season. The show still isn't available on DVD, but now you can watch it from the beginning on Netflix. If you missed the show, watch it. If you loved the show, watch it. If you've never even heard of the show until now, watch it. You won't be sorry.
Your Daily Blend of Entertainment News
Thank you for signing up to CinemaBlend. You will receive a verification email shortly.
There was a problem. Please refresh the page and try again.