Falling Skies Starts Strong, But Will Viewers Stay Hooked?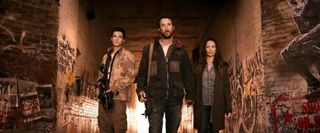 Falling Skies earned solid ratings numbers for its series premiere, suggesting that TV viewers are still hungry for quality, arc-driven sci-fi.
The TNT drama, produced by Steven Spielberg, earned 5.9 million viewers for its two-hour series opener on Sunday night. That makes Falling Skies the most-watched cable TV premiere since Rizolli & Isles debuted on TNT last summer, reports Deadline. And, in case you're counting, Falling Skies' debut earned more viewers than the premiere of The Walking Dead, which hit AMC last Halloween and drew 5.3 million pairs of eyeballs.
Falling Skies follows a group of resistance fighters struggling in a post-apocalyptic Earth infested with creepy alien killers, dubbed "Skitters." Noah Wyle plays a resistance leader trying to balance family life -- he has three sons -- with fighting the good fight against the gruesome alien overlords.
While Sunday's premiere didn't exactly end on a huge cliffhanger, the show did offer the makings of what could turn out to be a compelling season-long arc with the kidnapping of Wyle's son (read our recap). There's also the matter of learning where the aliens came from, why they landed on Earth, and why they're so interested with enslaving human children.
There's enough here to keep me hooked, and the 10-episode season structure should keep the story tight and taut, which, in turn, should keep viewers, sci-fi fans and non-nerds alike, hooked as well. But it remains to be seen if Falling Skies can keep the ratings momentum going. The good reviews should help, as should the Spielberg branding and the promise of suspenseful alien action in every episode.
The revolution is only beginning, and here's hoping it'll last at least one more season.