The Fascinating Stories Star Wars: Clone Wars Was Planning To Tell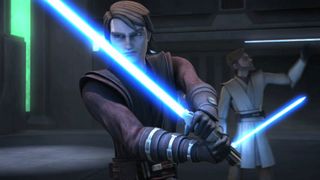 While Disney's acquisition of the Star Wars franchise has already paid dividends for fans in the form of new films and the upcoming animated series Star Wars Rebels, we can't forget that the company also cancelled the popular animated series Star Wars: The Clone Wars well before writers had a chance to finish up all the story arcs they'd been working on over the course of six seasons. Given that the animated series is still considered official canon in the Star Wars universe, this is a pretty big deal – but it appears as though fans will get to see some of the unfinished episodes thanks to the magic of mass media.
The Star Wars site has shared this awesome new video, titled Star Wars: The Clone Wars Legacy, which takes us inside the animated world inspired by the work of George Lucas in order to show us three new stories that were never completed for the beloved series. Two of those tales, including one featuring Episode I villain Darth Maul, will make the jump to other media (the Maul story has already been published as a four-part miniseries by Dark Horse Comics, while a new novel featuring Count Dooku's Dark Acolyte Asajj Ventress is due next summer) and are sure to please fans and Star Wars historians alike.
However, a third story is the one that's really captured our attention as it features more interaction between Anakin Skywalker and Obi Wan Kenobi before everything heads south between them.
The four episode arc is titled "Crystal Crisis on Utapau" and is presented in a rough cut, story reel format. You can view all four of the episodes right now, over at the official site. Proceed with caution, though, because this story sequence has some pretty big spoilers for those who aren't up to speed with the series as a whole…
While most properties couldn't get away with releasing unfinished story arcs in such a rough format, Star Wars fandom is a little bit different – something that's not lost on LucasFilm's Pablo Hidalgo.
Given that The Clone Wars remains part of the official Star Wars canon, it makes sense that fans would clamor for this content even in an unfinished state. With Disney removing most of the extended universe from the official lore, force fanatics have begun poring over the remaining material in search of clues as to where Star Wars: Episode VII could be heading. While it seems unlikely that any of this material will play a role in JJ Abrams' new feature, it still fleshes out the greater universe and gives viewers more stories from that famous galaxy far, far away.
Fans looking to get caught up on the complete Star Wars: The Clone Wars experience will find all six of the seasons streaming on Netflix. Star Wars Rebels, which is also canon, will begin airing on Disney networks in October.
Your Daily Blend of Entertainment News
Thank you for signing up to CinemaBlend. You will receive a verification email shortly.
There was a problem. Please refresh the page and try again.