A Few Good Men's Live Adaptation Is Definitely Happening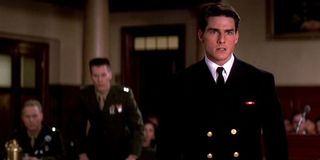 NBC has been having a good time developing live musicals for television since 2013 when they broke through with The Sound of Music Live. Now the network is looking to continue branching out in the field of live TV by producing a version of the Aaron Sorkin-penned drama A Few Good Men.
The network confirmed to CinemaBlend today that A Few Good Men will be its first foray into live drama since NBC stepped back into live programming in 2013. Since The Sound of Music Live, the channel has had yearly live events with Peter Pan Live and The Wiz Live. This year's live musical, Hairspray, will air in December, just as the previous specials have. NBC's dramatic effort will air sometime in early 2017.
Most people know of A Few Good Men because of the Aaron Sorkin-adapted 1992 movie of the same name, directed by Rob Reiner, which starred Tom Cruise, Demi Moore and Jack Nicholson. That film was nominated for a total of 23 awards, including four Academy Awards.
This adaptation of A Few Good Men will be based on the play, also written by Aaron Sorkin, that debuted on Broadway in 1989 and ran for 497 performances. Much like the film version, the story focuses on a young lawyer, Lieutenant Daniel Kaffee, who's serving in the Naval Judge Advocate General's Corps. Kaffee is soon charged with defending a group of Marines who killed another Marine during a hazing at the U.S. Naval Base in Guantanamo Bay, which they say was ordered by their superior. Unlike the movie, the play takes place in 1986, and has scenes set in Washington, D.C. as well as Cuba. Actor Tom Hulce, who portrayed Kaffee in the play, received a Tony Award nomination for his work in the role.
Live dramas used to be a staple of TV programming. There were several live anthology dramas, where each episode was a distinct story, from the late 1940s through the mid-1960s, and many of those programs are seen to represent a golden age of television. Since then, though, television has mostly stayed away from live shows.
Aaron Sorkin is one of our most celebrated writer/producers working in film and TV today. He's won over 70 awards for his work, including an Oscar for The Social Network, a Golden Globe for Steve Jobs, and several Emmy's for NBC's The West Wing. He's also known for the TV shows Sports Night and The Newsroom, and the films The American President, Charlie Wilson's War, and Moneyball. Sorkin is currently preparing to direct his first movie, a film adaptation of the book "Molly's Game."
A Few Good Men sounds like the perfect drama for NBC to take on in order to develop a slate of live televised dramas. Plenty of people remember the movie and will likely be interested in watching another version of the story. If this outing is successful, you can bet we'll be getting yearly live dramas to go along with the network's musicals.
Want more CinemaBlend? Try our brief trivia challenge below!
Bachelor Nation, Gilmore Girl; will Vulcan nerve pinch pretty much anyone if prompted with cheese...Yes, even Jamie Fraser.
Your Daily Blend of Entertainment News
Thank you for signing up to CinemaBlend. You will receive a verification email shortly.
There was a problem. Please refresh the page and try again.