The Finder Preview: Meet The Cast Of The Upcoming Bones Spin-Off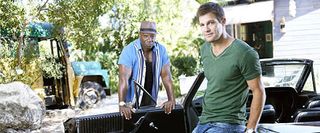 For those of you who caught the lead-in to midseason's The Finder during an episode of Bones in early 2011, the show has gone through some changes while preparing to officially head to primetime. The biggest change is namely that the lineup for the upcoming show is looking a little different. Geoff Stults as Walter Sherman and Michael Clarke Duncan as Leo Knox are still gracing us with their presences, but Saffron Burrows as Ike Latulippe is out, leaving room for a new female lead. Or leads, as seems to be the case. Maddie Hasson will play Willa, a young thief involved with the crew, and Mercedes Masöhn will play Deputy United States Marshall Isabel Zambada.
With two weeks to go until The Finder's new lineup appears on Fox, the network has put together a promotional video to introduce us to the show's new characters and prepare us for the slightly different feel of the show. Don't worry, with a strange motorcycle duo and a friends-with-benefits relationship supplementing the plot, The Finder still looks like it will be a pretty quirky program. Which should be a great fit for Fox's busy Thursday night lineup. Check out the video, below.
The Finder premieres on Thursday, January 12 at 9 p.m. ET. If you would like to catch a rerun of The Finder's tie-in episode of Bones, it will be re-airing January 3 at 8 p.m. ET on TNT.
Your Daily Blend of Entertainment News
Thank you for signing up to CinemaBlend. You will receive a verification email shortly.
There was a problem. Please refresh the page and try again.