The Firm Review: NBC Brings John Grisham's Legal Thriller Back To Life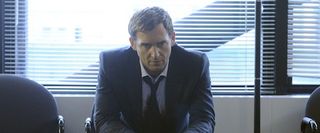 I won't try to claim that NBC's TV sequel to John Grisham's The Firm was high on my list of most-anticipated dramas among the 2011-2012 primetime TV line-up. This is not to say that I don't like The Firm. In fact, in my memory, it may be one of, if not the first modern novel that I read before seeing the movie, which could at least partially explain my lack of interest in the TV sequel from the start. I was barely a teenager when the book came out and unaware as I read Grisham's novel prior to seeing the film that I was about to learn the lesson most readers of modern literature learn sooner or later: The book is almost always better than the movie.
Before The Firm, my only book-before-movie experience may have been a print version of Adventures in Babysitting, but I don't think that counts for argument's sake here. By the early '90's I'd begun to raid my father's reading material, which is likely to be how John Grisham's The Firm ended up in my hands, after which I think I read back to A Time To Kill and up to The Client before moving on to other types of novels. Legal thrillers only held my attention for so long. In that time, however, the only film based on a Grisham novel that I felt managed to come close to the book was A Time To Kill.
Nearly two decades after sitting through The Firm and realizing that a movie about a young lawyer being seduced by a prestigious law firm only to discover it's corrupt doesn't necessarily make for as exciting and interesting a film as it does a novel, I realize there may have been some residue of that slightly bitter disappointment left over going into NBC's new series. That aside, having screened the two-hour premiere, I have to admit, the set-up could actually work for a TV series. In fact, there are definitely places to go with this story. What's more, knowledge or a clear memory of the original novel or film is probably unnecessary.
Created by Lukas Reiter, with John Grisham among the executive producers, The Firm stars Josh Lucas as Mitch McDeere, an attorney who, along with his wife and their ten-year-old daughter, has been in witness protection for the last decade, having been a target of the mob's after helping the FBI take down that mega law firm, which had strong connections to organized crime. Now, a decade later, the McDeeres have left witness protection and are looking to settle down to what they hope will be a normal life as McDeere starts up his own practice as a defense attorney. Of course, the past isn't quite behind them and the future may hold even more problems for McDeere and his family.
Rounding out the cast is Callum Keith Rennie (Battlestar Galactica), who plays Mitch's ex-con brother Ray, who now serves as a private detective for his brother's law firm. Juliette Lewis plays Tammy, Ray's girlfriend and Mitch's receptionist/secretary. Tricia Helfer recurs as Alex Clark, the head of a prestigious law firm looking to bring McDeere on as a partner to head up their criminal law division.
The two-hour premiere feels almost like a movie as we're reintroduced to the McDeeres. They're a small but relatively happy family that has moved around quite a bit. Mitch and Abby believe that they are no longer in danger from the mob. That proves not to be the case, but that's only part of the danger and conflict that awaits. The premiere is book-ended by a flash-forward, which has Mitch running from a group of suited men, so we know danger is not far off for this attorney and his family.
While the mob-threat backstory and new firm front-story give The Firm the feel of a show with an overall plot that's being set up to unravel piece by piece, there's also a stand-alone element in this series, as the premiere includes a murder case that Mitch is assigned to handle. It is through the case, which involves the death of a teenager, that we get to see how Mitch and his small practice operates. It gives the series a legal-drama feel to it, which could hold viewers' interests well as the rest of the story continues to to set itself up. The murder case also happens to involve a victim's parent looking to take the law into his own hands, a plot scenario that is a little bit reminiscent of A Time To Kill, though the circumstances are different.
I didn't see the full extent of the potential for a TV series based on The Firm, nor did I fully understand why the original novel (or movie) needed a sequel, however NBC's new drama makes good use of the back-story while also moving forward with it in a way that should fit today's television nicely. The cast comes together well and the premiere's setup isn't over-complicated with back-story. We're told everything we need to know to understand who the McDeeres are, and why they're in their situation, after which there's enough going on to move the story forward and introduce us to the characters. In addition to liking the cast, particularly Lucas and Rennie, who seem like real brothers on screen as Mitch and Ray McDeere, I also like the dialogue. Nothing feels mundane, nor over-dramatic. There's a nice balance in the conversations by the way the characters speak that's attention-grabbing but not distracting. The show also looks really good. The use of color, particularly in the flashbacks and flash-forwards works nicely to give the series a distinct visual tone.

Regardless of whether or not you read (or even liked) John Grisham's The Firm, the TV series gets off to a great start with the two-hour premiere. NBC is reviving the story with a sequel, and while I can't say that I thought the novel or film needed to be brought back to life, the premiere works. It's suspenseful, interesting and could be TV's next must-watch legal drama, which offers the added bonus of being a thriller at times.
The Firm premieres Sunday, January 8th at 9:00 p.m. ET on NBC, after which it moves to Thursday nights beginning January 12th at 10:00 p.m. Et.
Assistant Managing Editor
Kelly joined CinemaBlend as a freelance TV news writer in 2006 and went on to serve as the site's TV Editor before moving over to other roles on the site. At present, she's an Assistant Managing Editor who spends much of her time brainstorming and editing feature content on the site.
Your Daily Blend of Entertainment News
Thank you for signing up to CinemaBlend. You will receive a verification email shortly.
There was a problem. Please refresh the page and try again.