First Full Eastbound And Down Season 2 Trailer: Kenny Powers Transcends Race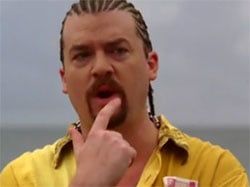 Kenny Powers is back and he still hates kids. The first full trailer for the second season of the most offensive HBO series Eastbound & Down has arrived and, apparently, the entire thing takes place in Mexico. That Kenny Powers on a moped teaser we showed you here wasn't just a temporary side trip south of the border.
The second season finds Kenny playing for a Latin baseball team where he proudly proclaims that a man who has experienced the loss and pain he's experienced, transcends race. Translation: That gives him license to say whatever the hell he wants about Mexicans. This should result in not only high comedy, but more than a few Kenny powers beatings. It'll be brilliant. Here's the first full, Eastbound & Down Season 2 trailer:
This is going to be the biggest comeback celebration that any of ya'll have ever seen. You pretty much have the entire force of god coming at you when Eastbound & Down returns to HBO September 26th.
Your Daily Blend of Entertainment News
Thank you for signing up to CinemaBlend. You will receive a verification email shortly.
There was a problem. Please refresh the page and try again.