First Look At Emilie De Ravin In Once Upon A Time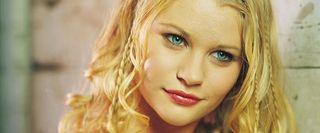 We told you earlier this month that Lost's Emilie de Ravin was slated for a guest appearance on ABC's fractured fairy tale Once Upon a Time. The show features well-known storybook characters transported to modern day and stripped of the memories of their true origins. So far we've seen the "real world" versions of character such as Snow White, Prince Charming, and Jiminy Cricket. When de Ravin's episode airs in February, she'll be playing the role of Belle from Beauty and the Beast. In the meantime, TV Guide has posted a first look at de Ravin in costume and sporting a very different look than the blonde tresses Lost fans remember.
It looks like she's shooting on a greenscreen, so the shot doesn't provide too many clues as to what she will be up to on the show. That is Robert Carlyle as the show's creepy version of Rumplestiltskin behind her, possibly confirming the earlier news that Belle would have some connection that character. Show producer Adam Horowitz had a few nice things to say about de Ravin's casting: "Emilie projects a very natural strength and warmth, which are characteristics we wanted to explore with Belle." He also explained that Belle's story will veer away from the traditional version in some ways, but we can still expect to see some incarnations of Belle's father, the Beast, and the incomparable Gaston.
So far I've been more won over by NBC's competing modern-fairy-tale show Grimm, but de Ravin should make a good pick for Once Upon a Time's Belle. At the very least, she looks great with the new hair color.
Your Daily Blend of Entertainment News
Thank you for signing up to CinemaBlend. You will receive a verification email shortly.
There was a problem. Please refresh the page and try again.