First Look At The Flash In Costume For The CW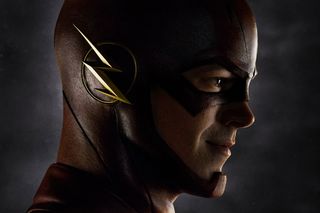 The Flash is here! We have your first ever look at the The CW's newest superhero. A spin-off of their currently popular DC Comics-based series, Arrow, The Flash stars Grant Gustin as Barry Allen, The Flash. That's him right there, in costume. At the very least, we get a good look at what's going on above the neck. A bigger view would be appreciated, but this gives us an idea of where they're going with his look.
The lightning bolt festooned head-covering you see him wearing was designed by three-time Oscar winner Colleen Atwood, who also designed the costume worn by Oliver Queen on Arrow.
Though Barry is now walking around in his costume, they haven't actually started production on the show yet. The Flash begins shooting next week.
Here's what The Flash looks like out of costume, when Grant Gustin showed up on Arrow as CSI Barry Allen...
The last time we saw Barry, however, he was being zapped during the lightening storm, and last we heard, he was unconscious and Felicity was visiting him. But it's been a while since we've gotten any update there. And that's not entirely unexpected, as the fate of the Flash drama has yet to be determined. It would make sense if the Arrow writers were approaching that story tentatively while the Flash pilot begins production and the CW makes up its mind about which pilots will go forward. Fingers crossed that Flash finds a spot on the 2014-2015 lineup!
In the meantime, let's all bask in the shadowed glow of Flash's profile with the small smile on his lips as he appears ready to tackle whatever challenges face him and Central City. We're ready to watch it happen, especially if Flash proves able to live up to the standard set by Arrow.
This won't be the first time The Flash has been seen on television. There was, of course, a short-lived 1990 television series starring John Wesley Shipp as The Flash. Here's what his costume looked like, for comparison...
For an even closer look at the new Flash, click the thumbnail below to blow up your screen with an ultra-high-res version. Turn that sucker into a speedy Flash wallpaper.
And if it's Arrow news you're craving, we just shared the producer's preview for next week's episode, which teases some Deathstroke drama! Check that out here. And you can read our breakdown of "Time of Death" here!
Image 1 of 1
Your Daily Blend of Entertainment News