First Look At Jon Hamm Back On The Set Of Mad Men, As A Director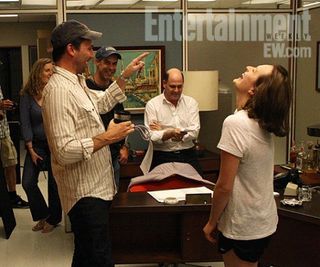 It's back! It's baaaaaaaaaack! After what's seemed like a thousand years of waiting and watching Matthew Weiner negotiate for a bigger paycheck, Mad Men is finally, finally going back into production in time to premiere early next year. So for us fans, Mad Men isn't technically back yet, but the mere knowledge that Jon Hamm is back on the same set where Don Draper's suits live is exciting enough for me. Sadly, he's not in one of those suits in the first photo from the new lively set-- Hamm is directing the season premiere, so in this new photo you can see him in street clothes, taking charge, with Elisabeth Moss and Matt Weiner watching on. Take a look below:
Knowing Weiner and his penchant for secrecy, this is likely the most we'll see of Mad Men before the promos start up later this year, and even then he'll be keeping things under wraps. As we watch the Dark Knight Rises try to keep the plot secret even with constant leaks from the set, it's kind of fun to think about the hermetically sealed world of Mad Men, where absolutely nothing gets out until Weiner and company say so. It's going to be a while before we see the Sterling Cooper Draper Pryce crew assemble again, but as usual, the wait is going to be worth it.
Your Daily Blend of Entertainment News
Staff Writer at CinemaBlend