The Flash Just Cast Iris West's Mother, Meet Her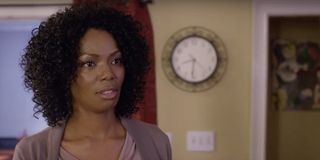 It was clear during The Flash Season 1 that Iris West and her father Joe have a close relationship, but there was a mystery lingering in the background: what happened to Iris' mother? That query was never addressed during the show's first 23 episodes, but it didn't stop fans from wondering about the whereabouts of her mom. Well, that question is about to be answered now that Candyman star Vanessa Williams has been cast as Iris's mom for The Flash Season 2.
Among every thing else that will be happening in the Scarlet Speedster's sophomore season, viewers will also get to meet the West matriarch. Variety didn't provide any details about what Williams' role on the series will be, so it's a mystery whether Mama West will appear in the present day or if she'll be confined to flashbacks. She is the second member of the West Family to be added to The Flash this upcoming season following Keiynan Lonsdale's casting as Wally West, though it's not clear whether she'll also be Wally's mother in this universe or have some other kind of familial connection that's closer to the comic origin.
The Flash fans will remember that after Eobard Thawne killed Barry Allen's mother and framed Henry Allen for the murder, Joe took Barry in and raised him alongside Iris. In the few flashbacks we saw to Barry as a child with Joe and Iris, Mama West was nowhere to be seen. Although the implication is that Joe was a single parent during these years, that hasn't been confirmed on the series yet. The publication also identified her as "Joe West's wife," which could suggest that her first appearance will be in flashbacks that explain the circumstances of why she and Joe aren't together anymore. On the other hand, perhaps viewers will get to see Mama West in the present, and if things between her and Joe didn't end well, then it's possible Iris may have some issues with her mom that need to be resolved. Also, if Iris and Wally are siblings on The Flash, perhaps Wally went to live with his mother, which is why we haven't seen him in Central City.
Just to clarify, the Vanessa Williams playing Mama West is not the same Vanessa Williams that has starred in Ugly Betty and Desperate Housewives. The Flash's Williams is most well known for her roles as Anne-Marie McCoy in Candyman, Rhonda Blair in Melrose Place and Maxine Chadway in Soul Food. Most recently, she's appeared in direct-to-video movies like Raising Izzie and Men, Money & Gold Diggers. She is the second Candyman alum to join The Flash Season 2 following Tony Todd, who will be voicing the season's main antagonist Zoom.
The Flash Season 2 premieres next Tuesday at 8 p.m. EST on The CW.
Connoisseur of Marvel, DC, Star Wars, John Wick, MonsterVerse and Doctor Who lore. He's aware he looks like Harry Potter and Clark Kent.
Your Daily Blend of Entertainment News
Thank you for signing up to CinemaBlend. You will receive a verification email shortly.
There was a problem. Please refresh the page and try again.