The Flash: We Finally Have A Good Look At Zoom And He's Terrifying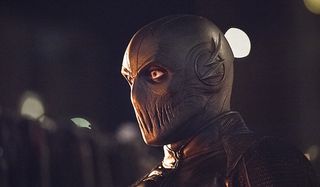 The Flash Season 2's main antagonist Zoom has already appeared in several episodes, but each time we've seen him, he's been a blur, similar to Reverse-Flash in Season 1. So even though it's obvious Zoom is a scary guy, we haven't gotten a good look at him…until now. The CW has released some shots of the villain up close in next week's episode "Enter Zoom," and he's even more terrifying when seen in clear detail.
Zoom (voiced by Tony Todd) has been described by producers as a "speed demon," and at one point it was said his suit looked more "organic," making it hard to tell what's underneath. That's made all the more apparent now that we see Zoom's leathery look without the blurring. Props to The Flash's costume and makeup departments, as this is one of the creepiest live action supervillain looks I've ever seen! It looks like they sewed some poor guy in there, and along with that creepy voice, he's forever condemned to frighten children and metahumans.
Zoom has already fought Earth 2 Flash Jay Garrick and stole his speed, but next week's episode will show his first direct confrontation with Barry Allen a.k.a. Earth 1 Flash. Given that it's still early in the season, it's doubtful Barry will also have his speed stolen, but given how powerful we know Zoom is, his chances of victory aren't looking good. I also wouldn't be surprised if Barry has to deal with nightmares of Zoom afterwards.
Spoilers for this week's The Flash episode are ahead!
Since the Season 2 premiere, Zoom has been sending metahumans from Earth 2 to kill Flash for one reason: so he can be the greatest speedster in the multiverse. Atom Smasher, Sand Demon and King Shark have been taken out, but this week's adversary provided Team Flash a unique opportunity. In "The Darkness and the Light," Barry was successful in capturing Doctor Light, a.k.a. the Earth 2 Linda Park, and it's through her they've concocted a plan. Disguising Earth 1 Linda (as in the one Barry dated last season) as Doctor Light, they will set a trap for Zoom, pretending that Light has defeated Barry and is calling in the bounty. Of course, in typical fashion, everything will probably go wrong, resulting in Flash and the other team members fighting this new speedy nemesis.
We also learned this past week that Earth 2 Harrison Wells' daughter (played by Violett Beane) has been captured by Zoom, which is the reason why good ol' Harry has traveled to Earth 1 to help Team Flash destroy Zoom. As for who Zoom really is underneath that getup, it's doubtful that question will be answered in "Enter Zoom," but hopefully the show will at least provide a clue to his identity.
You can watch Zoom in action on The Flash next Tuesday at 8 p.m. EST on The CW. In the meantime, check out the gallery below to see other stills from "Enter Zoom."
Image 1 of 10
Your Daily Blend of Entertainment News
Connoisseur of Marvel, DC, Star Wars, John Wick, MonsterVerse and Doctor Who lore. He's aware he looks like Harry Potter and Clark Kent.
Your Daily Blend of Entertainment News
Thank you for signing up to CinemaBlend. You will receive a verification email shortly.
There was a problem. Please refresh the page and try again.