Former Scrubs EP Bill Callahan To Head Sports Comedy For ABC And ESPN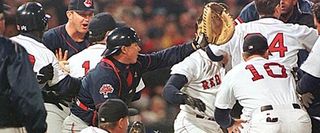 Despite ESPN's own forays into scripted television not having gone so well -- anybody remember Tilt or Playmakers? -- the sports cable network is still determined to churn out original content. This time, however, they're looking to provide that content for somebody else. Deadline reports that ESPN's production unit has sold a new scripted series to ABC. Former Scrubs exec producer Bill Callahan will write and exec produce the show, which will follow four Boston-area friends who regularly gather to watch all their favorite teams play. No word yet on a title or when the show might see air.
I can't help but think that the show's existence owes a little bit to the success of FX's The League, which puts a hilarious spin on the adventures of a group of friends who are fantasy football fanatics. Really, it's surprising that we don't see more shows that dip into sports fandom, given how big a part it is of many people's lives. If the goal of a show is to create characters with whom the audience can identify, you'd think "sports" would be a thoroughly tapped market.
It's unclear from Deadline's story whether the show will be a half-hour or a full-hour. Assuming the show makes it to air, however, it should be in very capable hands. In addition to his many years on Scrubs, Callahan is a TV veteran of shows such as Psych, Spin City, and 8 Simple Rules.
Your Daily Blend of Entertainment News