Fox Nabs Angela Kinsey And Rachael Harris Comedy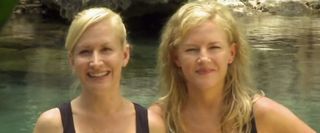 Another Office alum could be headed for a leading role on a new Fox comedy. Following in the footsteps of Mindy Kaling, whose series The Mindy Project premiered on Fox last month, Angela Kinsey is signed on for a new project just picked up by Fox, along with real-life friend Rachael Harris of The Hangover. The network has given a put pilot commitment to gal-pal comedy Dirty Blondes, set to star the two actresses.
The project landed at Fox after they outbid several other interested networks, says THR. Dirty Blondes is based on the two stars' real lives, and is about two friends who grow closer in their friendship when they both go through a divorce. The project hails from Glee producer Stacy Traub. Ruben Fleischer of Zombieland is on board to direct. Harris and Kinsey are both executive producers for the project alongside Traub and Fleischer.
With The Office officially set to wrap up after the current ninth season, Kinsey is ready to move onto a new gig – and apparently doesn't want to take any time off before she jumps into the next project. She's the third Office alum to move on to the next big thing. Aside from Mindy Kaling, Rainn Wilson has been tapped for The Farm spinoff pilot. Harris did an arc on New Girl's first season and also popped up recently on Happy Endings among other guest appearances. If Dirty Blondes goes forward, it will be her first regular series role since Notes From the Underbelly, which was also produced by Stacy Traub and only ran for two seasons. The two friends appeared together in a PSA for Oceana's sea turtle campaign in 2010; aside from that their only project together was 2007's License to Wed.
Your Daily Blend of Entertainment News
Thank you for signing up to CinemaBlend. You will receive a verification email shortly.
There was a problem. Please refresh the page and try again.