Fox Renews Family Guy And American Dad, No Word On The Cleveland Show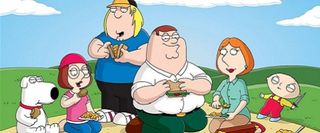 It's been a busy time for Fox, with the new series pickups and renewals of comedies and dramas…but what about one of the genres that made Fox famous? Fox has several big animated series, perhaps none bigger than The Simpsons, which was renewed for two years, a while back. This week they renewed two of their three Seth MacFarlane shows, while one hasn't earned another season just yet.
If it wasn't for The Simpsons animated series probably wouldn't be what they are today, and perhaps neither would Fox. The network renewed Homer and the crew for another two years way back in October. Since The Simpsons, Seth MacFarlane has been the big name in Fox animated comedy. He's responsible for three of the currently-airing shows in the animation block. MacFarlane's first hit for Fox, Family Guy has been renewed, as has American Dad as of this week.
Not yet spoken for is the Family Guy spinoff, The Cleveland Show. Deadline reports that they're waiting to see how things look in the fall before making a call. They're just finishing up Season 3, and already have Season 4 in production for fall, so there's no rush on renewing for a fifth. It doesn't sound like any sort of dire news for Cleveland. The series is also set to go into syndication on Adult Swim over at Cartoon Network in 2013.
As for other animated series, the newbie Napoleon Dynamite has yet to get a decision, and they've bid goodbye to another newcomer, Allen Gregory which premiered in the fall.
Your Daily Blend of Entertainment News
Thank you for signing up to CinemaBlend. You will receive a verification email shortly.
There was a problem. Please refresh the page and try again.