Fred Willard Fired By PBS After Lewd Conduct Arrest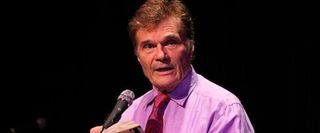 If you want to work on a PBS show, you'd better keep your nose clean. And your pants up. Fred Willard sure learned that lesson in a hurry; he was fired from his position as the narrator on the new PBS series Market Warriors this morning, less than 24 hours after being arrested by the LAPD for lewd conduct.
Willard, according to the New York Times, was arrested last night on Santa Monica Boulevard near the Tiki Theater when police on a routine patrol caught him engaged in a lewd act, the details of which haven't been released. PBS doesn't seem to care what the details are or what his excuse might be. They dropped the axe quickly and decisively. A spokesperson for the public broadcaster stated that "effective immediately, Fred Willard will no longer be involved with the Market Warriors series."
It seems Willard isn't just fired, but will be erased from the show entirely. The episodes he has already taped will be re-done with Antiques Roadshow host Mark Walberg doing the honors. Apparently PBS is very serious about making their opinions on his arrest clear. Market Warriors, which debuted recently, puts professional antique spotters up against each other to pick out the best deal.
I'm sure Mr. Willard will land on his feet; he's got a long acting career behind him and certainly someone out there will be more sympathetic to his publicly lewd ways than is PBS. Hopefully in the future he'll consider keeping things a little more circumspect in public, because let's face it, that's a pretty embarrassing way to lose your job.
Your Daily Blend of Entertainment News
Thank you for signing up to CinemaBlend. You will receive a verification email shortly.
There was a problem. Please refresh the page and try again.