Game Of Thrones And Breaking Bad Among 2013's Most Illegally Downloaded TV Shows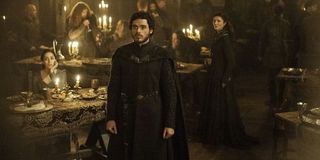 With Christmas just barely in the rearview and the new year upon us, now's a good time to look back on what people were watching over the last year, or in the case of this latest compilation, what TV shows people were pirating most in 2013. As it happens, Game of Thrones has once again topped the list. Coming in second and third are AMC's Breaking Bad and The Walking Dead.
Despite the increased accessibility of TV shows these days, between online streaming services and apps like Neflix, HBO Go and cable provided "On Demand" features, people are still illegally downloading TV shows. Go figure. TorrentFreak tabulated their data from several sources, "including download statistics reported by public BitTorrent trackers" and compiled a list that notes the most-downloaded TV shows (per single episode) in the U.S. The site also charts the U.S. TV viewership for each show, for comparison.
In the case of Game of Thrones, the estimated amount of downloads per episode is actually higher than the show's number of viewers, with 5.9 million downloads by comparison to 5.5 million viewers. The fact that GoT is a premium cable series that isn't available on Netflix or any other non-HBO means of distribution, seems like an obvious reason for such a close split between pirates and viewers watching it on HBO. The divide is much less even for Breaking Bad and The Walking Dead, as both AMC dramas see much higher actual TV viewers than illegal downloads. For Breaking Bad, it's 4.2 million downloads (10.3 million viewers). And for The Walking Dead, it's 3.6 million downloads (16.1 million viewers).
AMC is basic cable, which means people do actually have to pay for a cable subscription to legally watch the series, unless they want to wait months or longer for the episodes to pop up on Netflix. The same is not the case for The Big Bang Theory, which managed to secure the #4 spot, despite being a network TV program, which would make it much more widely available to TV viewers. The CBS comedy was downloaded 3.4 million times per episode, which isn't all that high by comparison to the 20 million or so viewers who tune in for the series. Still, given how accessible the series is in the U.S. it's curious that so many people are pirating it. Is it just more convenient for them to download it illegally than to watch it when it broadcasts or catch the latest episode online? Is it that they want to be able to keep the episodes and rewatch them whenever they want? It's hard to say, but given the massive popularity of the show, it makes sense that it would, at the very least, crack the list.
We had a fair indication back in May that Game of Thrones was in the lead for the top illegally downloaded show of 2013, but that was before Breaking Bad returned and Dexter aired its final season. Considering how close Dexter came in behind Game of Thrones on the list last year, it seemed like there was a good possibility that the series might top it, given that its eighth season was its last. But interest in illegally obtaining the serial killer drama appears to have fallen between 2012 and 2013, and that decline was enough to push three shows between the Showtime series and Game of Thrones.
Also on the list of top illegally downloaded series of 2013, in order are: How I Met Your Mother, Suits, Homeland, Vikings and Arrow. Of all of the shows, the series where the download numbers were higher than the viewership number were all premium cable (Game of Thrones, Dexter and Homeland).
Your Daily Blend of Entertainment News
Assistant Managing Editor
Kelly joined CinemaBlend as a freelance TV news writer in 2006 and went on to serve as the site's TV Editor before moving over to other roles on the site. At present, she's an Assistant Managing Editor who spends much of her time brainstorming and editing feature content on the site.