Game of Thrones: The Complete First Season Blu-Ray Review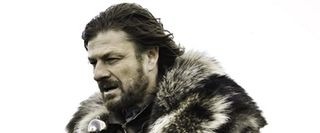 Season 1 of HBO's Game of Thrones is an adaptation of the book of the same name, the first in the longer ongoing story of The Song of Ice and Fire by author George R.R. Martin. The scope of this effort is simply outstanding, with a final product that is passionately faithful.
If you haven't seen Game of Thrones yet, you may be wary of its fantastical elements, and to that I can only say that this series is a character drama first and foremost. The supernatural does play a role, but at its core these are human stories about power and loyalty and family and lying and hacking and riding and being an outcast and being broken and having an affinity for prostitutes named Ros. There is the threat of something fantastic to come, but its presence is strengthened by the fact that it plays out in a real world. If the human elements were outlandish, the fantasy would be camp. But it's not. It's far from it.
Rather than attempt to summarize this season's richly layered plot in an unsatisfying paragraph, I will do it in one run-on sentence: The Stark family is complete and mostly happy until some of them go to live with the King and the rest inadvertently start a war while trying to expose the truth behind a murder, an incest, and two botched murders of the same person; all the while a young girl is gifted to horse lords who mistrust the sea. That said, what initially got me excited about the show were the direwolves who are loyal to the Stark children, an oncoming winter that may never cease once it begins, and the layers of family history that enrich every action that the characters take. What keeps me excited a year later is that all of these things are told with an intense honesty by a gripping ensemble cast in a world forged of tremendously detailed sets. The events of Game of Thrones Season 1 are so epic and transformative that the most fantastical thing about them is that they fit into 10 episodes.
Now we come to the Blu-ray set itself. The show has never looked or sounded better, and the sheer detail you are able to take away from the sets and costumes exceeds all expectations. The most engaging features are the seven audio commentaries. These give you a greater sense of the people making the show and provide you with several answers to key questions fans of both the books and the show may have. Which dead character comes back in book five? What was the original pilot like? Is George R.R. Martin's plan for the story being affected by this adaptation? All these answers will be revealed. What's also great is that the commentaries include a wide breadth of contributors. Show creators David Benioff and D.B. Weiss provide the most comprehensive commentaries, while the cast recordings are by far the most fun. You'll come to admire Lena Headey's (Cersei) dry sense of humor and even more arid use of certain curse words, just as you'll be taken aback by Harry Lloyd's (Viserys) seemingly anachronistic references in everything from Legos to Legolas. George R.R. Martin's scripted episode is covered by the man himself, and with great modesty he explains the considerations that go into making an adaptation. He also absolves the showrunners of any changes they made while at the same time not being shy to speak his mind about those aspects with which he disagrees. From a fan's perspective, a story like this seems so old and untouchable that it's almost confusing to realize that it is still very much alive, growing, and in fact vulnerable to change. If for some reason you're just renting or borrowing this, do be sure to listen to the first two minutes of the commentary held by the show's younger actors, as it is one of the more insightful takes on the sprawling opening title sequence.
Padding out the bulk of the other features are standard making-of pieces, providing looks at aspects such as how the Dothraki language came into creation and a deeper look at the aforementioned title sequence which, clichés aside, I do get something new from no matter how many times I've seen it. Unfortunately, some of the clips are reused from featurette to featurette, which may make you wish for a single, all-encompassing making-of. There is also an "Anatomy of an Episode" for episode six, "A Golden Crown," but its picture-in-picture motif is ultimately unnecessary, and fails to add much insight into the production aside from revealing a few shots where a green screen was placed.
"The Complete Guide of Westeros" and the "In-Episode Guide" are tricky to discuss. These have brilliant histories of this fictional world told with wonderfully executed animations. They tell the backstories for both fans and newcomers alike. These histories are told from the point of view of the characters themselves, which is a wonderful nod to the storytelling technique that George R.R. Martin utilizes in the book. No one character is correct, and your appreciation for the lore only grows by hearing all sides of the story. The In-Episode Guide is an on-screen selection of buttons that trigger the content also available in the "Complete Guide." It's a bit cumbersome, but I can see how it would be helpful for those unfamiliar to the world of Westeros. As a completist, I enjoy feeling that I've seen everything available, but this wide mapping of the content leaves me thinking that there is something that I missed which is inherently unsatisfying. Despite this issue, the mere existence of these features is a huge bonus and a reason to get this set even if you've already been watching the series On Demand for the past few months.
The box set comes with a booklet featuring an episode guide, several family trees, and a map of the Seven Realms. Unfortunately for the set as a whole, it does not tell you what disc has what content. Also, each of the five discs has the same menu. So you might see that "Creating the Dothraki Language" is on disc 1, but when you click it you are prompted to insert disc 5. With content spanning several discs it becomes a significant issue with the set.
"Hidden Dragon Eggs" are the last promised feature, but you have to find them yourself and I was unable to stumble upon them. Given my extensive navigation throughout the menus, perhaps these eggs are too well hidden. I hear that their content is refreshing and I'd like to watch them all, but I can also appreciate the game behind having these secrets so well disguised. I can, however, tell you that they're not hidden in the false Character Profile menu of disc 5. I already tried that.
Pick this up and take it with you. Season 2 is coming.
Length: 561 min.
Distributor: HBO Studios
Release Date: 3/06/12
Starring: Sean Bean, Mark Addy, Michelle Fairley, Nikolaj Coster-Waldau, Lena Headey
Directed by: Tim Van Patten, Brian Kirk, Daniel Minahan, Alan Taylor
Produced by: David Benioff, D.B. Weiss
Written by: David Benioff, D.B. Weiss, Bryan Cogman, Jane Espenson, George R.R. Martin
Your Daily Blend of Entertainment News
Thank you for signing up to CinemaBlend. You will receive a verification email shortly.
There was a problem. Please refresh the page and try again.