Game Of Thrones' Euron Greyjoy: What We Know From The Books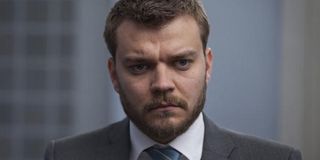 Spoilers for the second episode of Game of Thrones "Home" are all over this article. If you haven't caught the episode, yet, we suggest you read one of our other lovely articles.
We've known for some months that Game of Thrones had signed on newcomer Pilou Asbæk to play Euron Greyjoy, a member of the Iron Islands clan who is known for being a feared pirate on the high seas. He's been alluded to on the epic fantasy series in the past, but we didn't get to meet the character until tonight, when he appeared on the scene just in time for us to catch up with Yara Greyjoy and her father, Balon Greyjoy. Unfortunately, that didn't end up being the epic family reunion we may have hoped for. In fact, it was decidedly testy and ended with Euron killing his sibling.
While he has made it clear that he is not a man to be trifled with, Euron Greyjoy is still a pretty new character in the world of Game of Thrones. Luckily, while we have mostly caught up to the books in HBO's Game of Thrones, there are a few A Song Of Ice And Fire plotlines the show has not touched on, yet. This includes a lot of plots revolving around the Greyjoy family. (At least the Greyjoys not named Theon.) Theon's sister Yara wasn't even in Season 5. But "Home" is actually fairly heavy on the Greyjoys, featuring the homecoming of Euron Greyjoy for the first time in what seems to be years. In the episode, the character shows up on the scene after Yara and her father argue about the loss of Deepwood Motte and his so-called "kingdom." Soon after, Balon is crossing a rickety bridge and happens upon Euron. They share an intense conversation, with Euron telling Balon he is old and noting that he himself is more feared than his brother.
Euron is not welcomed by Balon and they move to fight, but Euron quickly bests Balon and shoves him over the side of the bridge. His body is later recovered from the water and he is buried at sea without Yara knowing who was behind his death. She soon learns that she may rule the Ironborn, but only if she wins the kingsmoot.
In the books, we get a little more backstory. A long time in the past, Balon had told Euron to leave and never return when he had slighted his brother Victarion by sleeping with his salt wife. Eventually, Euron decided to return. Conveniently, during an epic storm, Balon was on a bridge when a wave crashed over, reportedly taking Balon with it. We later heard from Balon's daughter Asha (Yara in the show) that she believed Euron may have been responsible for actually killed her father. He then took over the Iron Islands and became interested in Dany and her dragons. If that part of the book storyline is going to come true, it's too soon to tell.
There's plenty more we know about Euron Greyjoy. Before killing Balon he was a ruthless pirate and the captain of a ship called Silence. It's called that because Euron chose to cut the tongues out of the individuals who serve him on the ship. With that in mind, it's no wonder the casting description for the character called him "cunning" and "ruthless."
Game of Thrones has made a lot of changes from George R.R. Martin's novels, but it seems as if the trajectory of this character will be at least somewhat similar to the books. Early reports from the set have said that Pilou Asbæk has filmed some scenes featuring a kingsmoot, which is alluded to in that conversation about Yara's potential to rule. Eventually, Euron may soon be another player trying for the Iron Throne. Whether that means he will conquer or attempt to forge an alliance elsewhere remains to be seen. There are still quite a few episodes in Season 6 during which the show may revisit this particular storyline, after all. Plus, earlier in the episode, Theon revealed he would be leaving Sansa and heading home, which could prove to be an interesting twist in the weeks to come.
Game of Thrones airs on Sunday nights at 9 p.m., only on HBO. To see what else is coming up on the hit fantasy drama, check out our what we know so far guide.
Your Daily Blend of Entertainment News
Reality TV fan with a pinch of Disney fairy dust thrown in. Theme park junkie. If you've created a rom-com I've probably watched it.
Your Daily Blend of Entertainment News
Thank you for signing up to CinemaBlend. You will receive a verification email shortly.
There was a problem. Please refresh the page and try again.