A Game Of Thrones Rap Mixtape Is Coming: Hip Hop Hooray!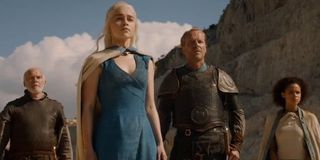 Not that HBO needed any help in the hype-building department, but the network has tapped 10 rappers to craft a mixtape inspired by its hit fantasy series, Game of Thrones. It's a sweet little promotional hoorah made special for the Internet, and is set to drop on Friday. It's going to be called — oh I'll bet you'll never guess (just kidding) — Catch The Throne.
Featuring the likes of Common, Big Boi, Wale, Daddy Yankee, and more, the raps are said to incorporate the epic George R.R. Martin series into their ethos and lyrical substance. Considering the themes of Thrones — power, redemption, trials, tribulations, love, hardship, and the like — it's not hard to see why HBO might find more than a few willing participants among hip hop's finest.
Like Wale, whose rap includes the lyrics (over a string-laced, military-inspired instrumental track): "I'm tellin' whoever messin' with me / I can bring you that Khaleesi heat / Use my King, knack for words, as an actual sword / I can decapitate a rapper…"
As for the reasoning behind such an unexpected union? Ratings, natch. Even though the series has an impressive 14.3 million average viewers (making it the network's most-watched series) heading into season four, with many of those eyes belong to — surprise, surprise — nerdy white people (72.9%, in fact). HBO has a desire to move beyond that. As their senior vice president of multicultural marketing Lucinda Martinez explained, "multicultural audiences are a very important part of our subscribers, and we don't want to take them for granted."
Magazeen, a Jamaican-born dancehall-rap artist featured on the mixtape didn't need much convincing to hop on board, as he's already a self-professed fan of the series, citing his favorite character to be mad, prattling boy king, Joffrey Baratheon. "It's a lot of sword-swinging, a lot of fighting, man—It's just raw!" the artist said.
Also a fan is Common, who's still a bit behind on binge-watching the series (he's yet to watch season three, hoo boy), but also apparently has a favorite character: Tyrion Lannister (Peter Dinklage), which will come as a surprise to absolutely no one. Because, you know, Tyrion Lannister is totally the best, in addition to being a truly complex and engaging character.
Inspired by the doings of the second season, Common contribution to the mixtape contains the lyrics "I sit and think when I'm in my zone / This life is like a Game of Thrones." No doubt harkening to the feeling many of the characters feel when in a position of power.
[[ br. br ]] But the biggest fan of the series is apparently Big Boi from Outkast, who's not only watching the series but reading the novels on which the series is based. For Boi — who's apparently quite the nerd, being a fan of Harry Potter and several comic book series, so kudos to him! — though, working on the tape was a big honor given his own obsession. "I'm really happy. I get to be part of the process of one of my favorite shows."
Catch the Throne from HBO is set to drop for free on Friday.
Your Daily Blend of Entertainment News
Thank you for signing up to CinemaBlend. You will receive a verification email shortly.
There was a problem. Please refresh the page and try again.