Game Of Thrones Star Handles Being Recast In Best Way Possible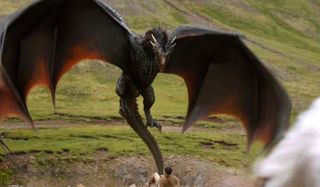 Can you imagine how unbelievably awesome it must be to be a part of Game of Thrones? It almost doesn't matter if you're a fan favorite or a figure fans love to hate. Just by being there you are living out the fantasies of untold fans and steadily being made a part of television history. But for some this ride ends too soon, and one fallen princess is taking it hard in a hilarious way, as you can see in the Vine below.
The Mary Sue clued us into this out of work princess. You might not immediately recognize that pretty blonde above, but she's Aimee Richardson, the ingénue who played Myrcella Baratheon before she was shipped off to Dorne. Remember?
Myrcella Baratheon was totally absent from Season 4. She was only mentioned when her mother Cersei worried to Dornish prince Oberyn Martell how she fared in the kingdom so far away from King's Landing. And with a flood of Dornish characters coming to season five, we suspected Myrcella would return. She will, but Aimee Richardson won't. Instead, she'll be replaced usurped by Nell Tiger Free, joining newbies to the Game of Thrones cast including Alexander Siddig, Toby Sebastian, Deobia Oparei, Keisha Castle-Hughes, Enzo Clienti, Jessica Henwick, Rosabell Laurenti Sellers, and Jonathan Pryce.
Still, cheers to Aimee Richardson for having a sense of humor about it! And as great as Nell Tiger Free may be, she'll have some big shoes to fill. I mean, not just as Myrcella but as a kinetic and clever gal about social media. How could she possibly compete with Richardson's response to that infamous Purple Wedding?
And as perhaps her final gift to us before she's no longer our princess, Aimee Richardson shares this video of her and former co-star Kerry Ingram (A.K.A. Shireen Baratheon) as princesses gone wild at the Apple Store.
Farewell, Aimee. You lost the role, but won the internet.
Your Daily Blend of Entertainment News
Staff writer at CinemaBlend.